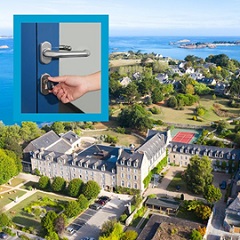 Saint Jacut de la Mer, on Brittany's Côtes d'Armor, faced growing difficulties with access management for its public buildings. Looking for a more efficient operation to improve security, the town's technical services team have opted for eCLIQ electronic locking as a solution.
One of the primary issues was the costs of making new keys, as they were being lost or were difficult to track, putting pressure on the town budget. In addition, several different access solutions had been installed over the years, creating an inconsistent security programme across municipal properties.
The arrival of a new director of technical services brought a new approach to access control. They sought a trusted solution which would harmonise security and access management across the entire town — ideally a wire-free electronic system which was easy to install at doors and other openings.
After much research, a hands-on demonstration and consulting a local hardware supplier, buildings around the town have since been equipped with eCLIQ electronic locking cylinders.
"We decided to install eCLIQ wireless access control because of the good reputation of ASSA ABLOY equipment," explains the town's Director of Technical Services, M. Bertho.
This first phase includes the Town Hall, festival hall, school restaurant, meeting house and more. All these properties now utilise a uniform eCLIQ system, which includes single and double cylinders, as well as eCLIQ padlocks. Adding electronic access control to all these different buildings also ensured no drilling was required. Authorised users have been issued with programmable eCLIQ keys. Each one unlocks all the openings they need in their day-to-day work.
Now M. Bertho can instantly review the status of all eCLIQ-equipped premises and issue individually tailored access rights. For example, canteen staff, cleaners and delivery teams have their own access slots for the school restaurant. The local campsite is safer: If seasonal workers lose their key, its rights are removed immediately. At the Town Hall, only those with authorisation can enter.
A fully electronic extension of ASSA ABLOY's CLIQ access control technology, eCLIQ is built around locking cylinders and microelectronics. A standard battery with a 10-year lifespan in normal usage is inside each programmable electronic key. This key powers the cylinder or padlock and encrypts data transfer between lock, key and system. The town has already decided to extend coverage of its system, with the elementary school and cultural centre next on the access control upgrade list.