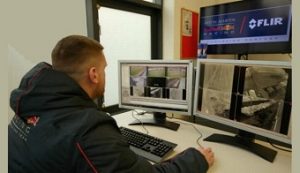 In a highly visible, and competitive sport like Formula One racing, it's not hard to understand why an organisation like Aston Martin Red Bull Racing attracts people who want access to their factory, and all the secrets contained within. Intrusion from unwanted visitors or vandalism is something that the people at Milton Keynes headquarters, in Buckinghamshire, England, want to avoid at all cost.
"Our Milton Keynes facility contains valuable technology and intellectual property," says Mark Hazelton, Chief Security Officer. "At the same time, we are located alongside a public road, close to a residential area with high footfall. That is why it is critical for us to have high-performing security processes and systems in place, so we can effectively protect our assets as well as the people who work here."
The scale of operations at the Aston Martin Red Bull Racing Team factory in Milton Keynes is amazing. Crafting the next Formula One challenger is done on the engineering site with a variety of buildings, including many office spaces, an R&D facility, manufacturing and storage areas. The design, testing, building and assembling of thousands of parts required to construct each race car all happen in house. About 750 people are employed at Milton Keynes and some parts of the factory are operated on a 24/7 basis.
"As our site has grown, our previous CCTV system was no longer sufficient to provide adequate security monitoring," says Caroline Tierney, Infrastructure Project Manager at Aston Martin Red Bull Racing, who started to look out for an updated CCTV system, investigated different options and ultimately selected FLIR Systems as their technology provider through a local IP security system integrator.
The facility is now equipped with some 120 cameras, both visual and thermal, that cover the entire area 24/7. Cameras on site include FLIR's visual Quasar HD and Quasar 4K, the latter presenting four times the resolution of the HD camera and, therefore, able to cover larger areas with fewer cameras. The facility also makes use of the Quasar Hemispheric Mini-Dome, which provides 360° immersive viewing, and of the thermal FLIR FC-Series ID camera, which includes onboard video analytics capable of classifying human or vehicular intrusions. The entire camera network is managed by FLIR's Latitude Network Video Management System (VMS).
The image quality that we get from the new range of visual FLIR cameras is truly impressive," says Zoe Chilton, Head of Technical Partnerships at Aston Martin Red Bull Racing. "It's amazing what kind of image quality can come out of such a compact camera unit."
The FLIR thermal cameras have powerful video analytics on board, which makes them extremely useful as intrusion protection devices at several strategic locations across the Milton Keynes site. With the FC-Series ID camera, you can set custom trip lines and regions of interest that will trigger alarms for human or vehicular intruders, even at night or in poor weather conditions. Upon the detection of an intruder, an alert is sent over to security personnel via email.
The FLIR Latitude video management system is the backbone of the system, allowing Aston Martin Red Bull Racing personnel to easily view, playback, search and export video from a scalable number of cameras. "In the past, when we wanted to investigate a particular incident in more detail, it used to take a long time to actually retrieve the information we needed from our video recordings, but with the new FLIR Latitude VMS, this is much more straightforward and we save a lot of time," says Tierney.
The cameras used in the network around the Milton Keynes site are relatively small in size. And there's a very good reason for that, according to Chilton. "Of course, it's important to have the best image quality possible, but on the other hand, we don't want our cameras to be too large and imposing either."
Other than the security aspect, there are other practical benefits of having a comprehensive camera network, as well. The cameras can also be used to check whether visitors are using the parking lot correctly, to track contractors around the site, and just for general site management purposes.
The selection of the FLIR security monitoring system fits into a long-standing technology partnership between FLIR and the Aston Martin Red Bull Racing team. Since 2014, the team has been integrating FLIR cameras for a wide variety of uses around the factory and track, from electrical maintenance, test rigs and security on site, to tyre temperature assessments in the garage. The high product quality and innovative approach FLIR takes to developing new solutions for the challenges of Formula 1 makes a great fit with Aston Martin Red Bull Racing's desire to push the boundaries of available technology for developing their cars.