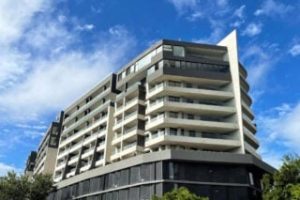 C-TEC's CAST ZFP addressable fire system has been installed at 260 residential apartments in South Africa's Cape Town. Owned by the Rawson Property Group and located in Newlands Peak , the modern 11-storey development features a restaurant, fitness centre and rooftop deck with two heated swimming pools.
The project was supplied by C-TEC's South African distributor, Brigit Fire, where a series of 8-loop CAST ZFP touchscreen-controlled fire systems were specified for the building by consulting engineers, De Villiers & Moore, and installed by Manyene Holdings, the Cape Town-based specialist systems integrator.
Divan Lerm of Brigit's Detection and Special Risk Sales Department said: "CAST was selected for its capacity to create a powerful high-quality system. As each panel can easily accommodate over 25 base sounder visual alarm devices per loop plus smoke, heat and multi-sensor devices, this meant that the client's requirement to equip all 260 apartments with all-encompassing fire detection could be satisfied efficiently and cost-effectively.
"The ability to set the sensitivity thresholds on the smoke, heat and multi sensors to minimise false alarms via the programming tools was also hugely important to our client due to the multi-occupancy nature of the building. This is such an excellent feature.
"The project took place over a period of five months and we received invaluable sales and technical support from the C-TEC team throughout."
Designed by C-TEC as part of its 10-year, multi-million-pound project, CAST is said to be an advanced 'distributed intelligence' fire alarm system protocol, with control panels, detection and alarm devices designed to integrate from a 'one out, all out' system to a more sophisticated multi-panel networked system. All CAST systems are also said to be fully compatible with ENVISION, C-TEC's powerful Cloud remote access, data management and system testing software.