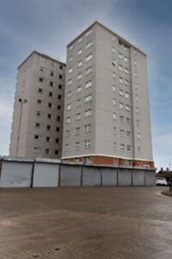 Advanced has supplied its EvacGo evacuation alert system to two high-rise residential tower blocks in Huyton, Merseyside after a series of fire safety improvements to the buildings.
Following a significant programme of compartmentation works undertaken in 2018, the 11-storey Knowsley Heights buildings have benefitted from a refit that includes installation of Advanced's EvacGo system.
Knowsley Heights is owned by Livv Housing Group, an independent housing association, with the two buildings partially managed by an onsite manager. ABM Fire and Security Ltd undertook the supply, installation and commissioning of the EvacGo systems, according to Advanced, with a 4-loop, 16-zone evacuation alert panel installed in each building.
Each EvacGo panel is housed inside a STS 205 security-rated enclosure with BS EN 1303-compliant lock and key mechanism for access by the fire and rescue service – designed for minimal risk of unauthorised use. Argus Vega Sounder VADS audible and visual devices and interfaces were installed in the hallways of each of the 128 flats to ensure all residents, including people who are deaf or have hearing loss are kept safe and informed.
Tony Cahill, Executive Director-Property from Livv Housing Group said "EvacGo from Advanced was selected for the Knowsley Heights refit as it was essential that the evacuation alert system met the criteria for BS 8629. While it may not be mandatory for an 11-storey existing building, meeting with best practice is essential for us as a housing association to protect our customers in the event of a fire."
Ken Bullock, Business Development Manager – Evacuation Alert Systems at Advanced, said: "We worked closely with fire industry experts to develop the EvacGo to ensure it meets the BS 8629 Code of Practice, as well as the needs of those using it. Following the Grenfell Tower Inquiry and the increased awareness of the importance of effective fire evacuation, we have seen a growing number of housing associations and landlords wanting to install an EvacGo system. While evacuation alert systems are now mandatory in new residential buildings over 18m, landlords of smaller buildings or those being retrofitted, like Knowsley Heights, are keen to meet best practice to keep their residents safe."
All Advanced evacuation alert systems are reported to be 'custom-manufactured' to reflect each individual building's evacuation zones and have been developed to provide a 'bespoke' solution that aims to allow the fire services to control evacuation floor by floor according to the severity and location of the fire.
According to Advanced, BS 8629 guidance states that the evacuation alert control system should be installed where a 'stay put' policy is in force, such as with Knowsley Heights, so that it can be used to facilitate a timely and ordered evacuation for all residents. An evacuation alert system is 'vital' to help fire and rescue services inform residents of a change in evacuation strategy during an incident. Advanced believes that this gives fire and rescue services an additional tool to use on the ground, alongside existing methods of evacuation.
Published on 1 June 2022, Part B (Fire Safety) offers new improvements to fire safety guidance to ensure tall buildings are made safer in England, as part of a wider package of reforms. Installation of evacuation alert systems is mandatory in all new build residential apartment blocks over 18m from 1 December 2022. However, for all other new build and retrofit projects, complying with BS 8629 is still seen as best practice which is why Advanced's EvacGo has been selected and installed at Knowsley Heights.