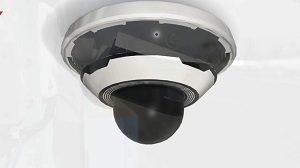 Dahua's USA branch recently showcased a new line of multi-sensor IP cameras incorporating the latest technology advancements. Solidifying Dahua Technology's strong commitment to its customers, the company debuted three state-of-the-art multi-sensor options providing better image resolution, application customisation and improved total cost of ownership for the consumer (TCO).
Delivering the ultimate performance in panoramic camera offerings, the panoramic multi-sensor bullet camera (DH-IPC-PF83230N-A180) will house four individual 8MP sensors with 4.5mm lenses. Providing the same coverage that would typically be provided by multiple standard cameras in the same setting, the multi-sensor minimizes maintenance, cabling and support costs, as well as installation time. The camera delivers a single stitched 180-degree panoramic view without distortion and can display four individual HD views at the same time. These cameras are well suited for education, retail and both commercial and residential verticals where higher resolution at an affordable price is a crucial objective.
The second multi-sensor camera (DH-IPC-PDBW5831N-B360) offers four individual 2MP sensors, each with a vari-focal 3-8mm motorised lens. This innovative flexible multi-sensor camera allow the four sensors to be independently positioned anywhere on the track for enhanced customisation and requires only one Ethernet and one power supply cable, thus minimizing maintenance, cabling, support costs, and installation time. The IPC-PDBW5831N-B360 is an ideal solution for casinos, banks, retail spaces, and commercial/residential areas where multiple scenes must be monitored simultaneously.
The third multi-sensor camera (DH-IPC-HDBW4231FN-E2) features dual low-light 2MP sensors each with a 2.8mm lens and integrated Smart IR up to 65ft (20m). This camera is perfect for a long hallway, corridor or the entrance to a building for capturing details from both directions. The camera allows the end user to minimize maintenance, cabling, and support costs, as well as installation time. This multi-sensor camera is ideal for locations where a customised solution is needed for the safety of at-risk occupants is essential such as educational, correctional, commercial and residential verticals.
Most of the new multi-sensor cameras offer true wide dynamic range (120 dB) (all except for PF83230), a true day/night IR cut filter, H.265 and H.264 dual codecs, and built-in intelligent video system (IVS) analytics (all except for PF83230), all enclosed by an IP67-rated weather-resistant housing