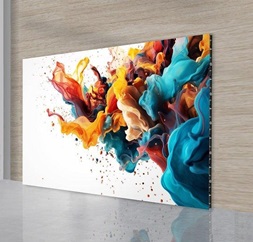 Dahua Technology, a video-centric AIoT solution and service provider, continues to set the benchmark for innovation, sustainability, and excellence, as the company releases its brand new Dahua CH II Series Indoor Fine Pixel Pitch LED Display, providing excellent visual clarity and promoting energy efficiency and sustainability.
"The Dahua CH II Series LED Display goes beyond delivering clearer and softer visuals; it signifies Dahua's unwavering commitment to green technology," says the Product Manager of Dahua LED Display, adding "With features like Flip Chip COB, Surface Nano-film, and energy-saving technologies, we've created a display device that offers superior visual quality while promoting eco-consciousness."
In the current dynamic world, where every pixel counts, the Dahua Flip COB Fine Pixel Pitch LED Display emerges as a game-changer. It is perfectly suited for a multitude of scenarios including monitoring centres, television stations, training classrooms, lecture theaters, and exhibition halls.
● Flip COB Design: Dahua's revolutionary Flip Chip on Board (COB) technology takes LED displays to a new level. Surface luminescence ensures softer, pixel-free illumination, effectively countering digital visual fatigue.
● Surface Nano-film: Dahua has perfected ink colour parameters to ensure uniform colour from all angles, eliminating batch ink colour discrepancies that have plagued the industry.
● High Protection: The Dahua Flip COB Fine Pixel Pitch LED Display is both dustproof and fingerprint-proof. It leaves no visible handprints, is waterproof, moisture-resistant (PPM<20), and highly durable against slight bumps.
● High Contrast Ratio: With an outstanding contrast ratio of 10000:1, images pop with unparalleled clarity.
● Ultra-wide Viewing Angle: Enjoy a 160°/160° ultra-wide viewing angle, ensuring perfect picture quality from any perspective.
● Energy Saving: Dahua has successfully redefined energy efficiency. Each single cabinet consumes less than 75W, marking a 40% reduction in energy consumption compared to SMD products.
● Full Front Maintenance: Simplify and expedite maintenance with its innovative full front maintenance design.
Aside from the Dahua Flip COB Fine Pixel Pitch LED Display, Dahua also offers a wide range of LED Display solutions to cater to customers' diverse needs. With exemplary products such as the PH&PH II Series, SH Series, and MH Series, Dahua consistently strives to create a better and greener society.