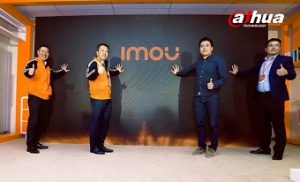 The "Enjoy Smart Life" imou Brand Launch Conference was held in Beijing, where industry – experts, imou primary partners, and user representatives gathered together to witness the launch of imou and the new brand image it delivers. The conference also demonstrated new AI products and "1+N+X" concept.
President of Dahua Technology, Mr. Li Ke, gave his opening remarks to the conference, proposing that imou will be based on the "Dahua Heart of City (HOC)" new smart city framework, which is supported by full-sensing, full-intelligence, full-computing, and full-ecosystem capabilities. It focuses on satisfying a diverse range of user scenarios for the global consumer market, providing values and services to end users together with its partners in the value chain.
Mr. Xie Yun, Vice President of Hangzhou Huacheng Network Technology Co., Ltd., presented the brand meaning of imou. As a response to the strategic engagement with global consumer market, as well as the development towards intelligent and connected Home, the brand formerly known as Lechange is upgraded with its new English name, imou. The name imou's core meaning is that it utilizes smart technologies to protect your home and save the memorable moments of your life, bringing all-round real-time companion and conveying happiness to your beloved ones with your hearts and smiles. The conference also launched a new brand slogan, "Enjoy Smart Life," which is set to allow everyone to enjoy safety, freedom, and happiness in their daily life.
The conference also featured the release of the imou Cloud "1+N+X" concept, which uses 1 imou Cloud platform, N-types of application scenarios, and enables third-parties to develop more X-type applications using intelligent analytics based on IoT big data to better satisfy users, make life more convenient, and make business smarter.
The conference also saw the launch of many new heavyweight high-tech products, among which there was the highly anticipated imou K8 AI Face Recognition Smart Lock – the world's first to use security industry-level AI face recognition technology to achieve intelligent face-based unlocking, allowing users to bid farewell to keys, free their hands, and enjoy more relaxed lives. In addition, the release of the imou Wire-Free Security System also received strong attention. With just a 5-hour charge, its camera can last 6 months, "freeing" the camera and allowing it to realize "full wire-free" operation, thus providing users with increased convenience.