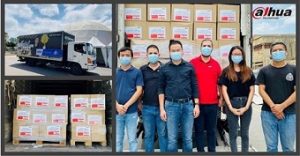 The massive explosion that shook Beirut on August 4th had a devastating impact on Lebanon and its citizens,killing at least 180 people and injuring thousands. At the same time, tens of thousands of the city's residents were left homeless after the blast destroyed their houses and properties. International organizations and peacekeepers from all over the world have reached out to send daily necessities and medical supplies to the region and assist in the reconstruction of the affected areas.
As a socially responsible company, Dahua Technology and its Lebanon team immediately contacted the Embassy of the People's Republic of China in Lebanon after the blast at Beirut Port, and donated 350 cases of food supplies to help the affected residents tide over this extremely pressing circumstance.
" Dahua Technology stands in solidarity with the Lebanese people and we are working together to help them rebuild their homes," said Lori You, Country Manager of Dahua Lebanon.
Earlier this year, also with the help of the Embassy of the People's Republic of China in Lebanon, Dahua Lebanon donated two sets of Dahua thermal body temperature monitoring systems to the country's Ministry of Health, strengthening the protection of Beirut Rafic Hariri International Airport during the pandemic period.
Dahua Technology has been operating in Lebanon for more than 10 years. With a professional local sales and technical team, Dahua Lebanon provides local customers with latest technologies, quality products and solutions, as well as speedy services throughout the country. Dahua Lebanon also actively supports local public welfare projects, enabling a safer society and smarter living.