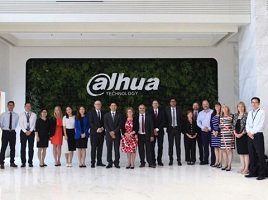 Dahua Technology's global headquarters in China were visited by a senior trade delegation from Leeds as part of a trip to capitalise on existing trade arrangements and reinforce a longstanding relationship between the region and the Chinese city of Hangzhou. In addition to discussing cooperative business opportunities, the visitors also enjoyed a tour of Dahua's HQ, including its cutting-edge demonstration room.
The visit comes on the back of Dahua Technology's UK subsidiary opening a new office in Leeds to provide support for local distributors, integrators and installers, as well as to deliver training and client demonstrations. "This trade and investment mission will build on our long and prestigious relationships with our Chinese partners," said Councillor Judith Blake, Leader of Leeds City Council. "We saw a hugely positive outcome of this activity with the announcement that Hangzhou-based Dahua, makers of video surveillance equipment, are opening an office in Leeds. They join Hisense which has its UK HQ in Leeds and Silver Cross owner Fosun. We want to encourage more investment and trade between our cities."
Hangzhou and Leeds have been partnered since 1988, cooperating in the fields of business, education and culture and resulting in links between many businesses and public bodies.
The Leeds City Region covers Barnsley, Bradford, Calderdale, Craven, Harrogate, Kirklees, Leeds, Selby, Wakefield and York. It has a £1 billion-plus Local Growth Deal to boost jobs and growth across the region. It is also home to the UK's largest regional financial centre and has a digital technology sector now worth more than £6.6 billion.