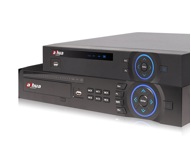 Dahua further extends its NVR portfolio by introducing new additions to the series, covering two entry-level models and one high-end model. The Professional NVR54-series is designed for medium-sized applications that require relatively high demand on storage capacity, such as telecom, electricity, public security, franchised stores and etc. The series has multiple sub-models, including 8-/16-/32-channels, and PoE versions.
As an example, the NVR5416/5432-16P supports 16/32 channel with 1080p live view, up to 5Mp and 5Mp cameras, featuring 160Mps for inputs and 128Mps for outputs, which could satisfy smooth recording at HD-megapixel level for multiple cameras at the same time. It accommodates a maximum of up to 4 SATAs with up to 4Tb for each. Meanwhile, this also series supports a maximum of 128 online users that are able to operate and manage simultaneously. In addition, the "frame by frame playback" is convenient for users to pin down a particular moment as key evidence. This NVR also supports Dahua motorised-lens network cameras to achieve auto focus/zoom and other basic functions directly on the NVR, facilitating the user operation.
Worth a special mention is that this NVR is equipped with 16 PoE ports and supports the IPC UPnP function, which could simplify the installation and configuration. Following the success of the previous 31/21 series, Dahua has added enhanced versions of the previous 31/21 edition, named as the entry-level NVR31/21H-series, targeting on small- and medium-sized applications, such as SOHO, convenience stores and retails.
The NVR31H-series supports 4-channels at 1080p realtime preview and recording while the NVR21H-series supports 4 channels at 720p. This series adds two-way audio and alarm functions as well as remote control, plus low consumption and low noise, keeping an "environment-friendly" guideline in design and production. All Dahua NVRs conform to ONVIF protocol and support a wide range of third party cameras.