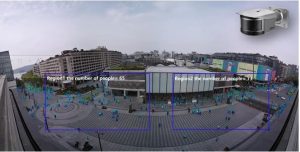 Designing an effective monitoring solution for a large-scale scenario is never an easy task and often faces a heap of challenges. Ordinary cameras are not enough to accommodate the needs of large scenarios, resulting in extensive camera coverage that increases installation, wiring, and maintenance costs.
Traditional cameras with subpar zoom capability can't be able to accurately detect human and vehicle targets on the scene or filter out false alarms caused by irrelevant objects. Decentralised management and lack of substantial statistical data for business analysis have also been one of the downsides of traditional monitoring systems.
The Dahua WizMind Panoramic Surveillance is designed for applications that require a 360°, 270°, or 180° panoramic view for situational awareness such as crowd maps and vehicle density.
Its high-speed PTZ camera and EPTZ technology can quickly and automatically track moving targets without missing target behaviour details. It is an ideal surveillance solution that can replace multiple conventional cameras, reduce monitoring complexity and save costs.
The Dahua WizMind Panoramic Surveillance provides an all-in-one design consisting of one device, one cable, and one power supply. With a PTZ camera, users can easily zoom in to see close-up details. One panoramic camera can efficiently replace multiple conventional cameras, greatly reducing installation wiring and maintenance costs.
Smart Tracking is the linkage between the panoramic camera and a PTZ camera; only panoramic cameras with PTZ support this feature. It can track one target at a time, supports up to 45x optical zoom, and can quickly auto-track a moving target from a far distance without missing its details.
On the other hand, an electric PTZ, or simply EPTZ, is only available in panoramic cameras that don't have PTZ cameras. When the alarm is triggered, an EPTZ camera can simultaneously zoom in and track multiple human and vehicle targets (max. 5).
It can focus on up to 5 important areas when there is no alarm. With high-speed positioning, this intelligent camera can quickly track the moving target that triggered the alarm until it disappears from the scene.
The Dahua AR Panorama adopts augmented reality technology and combines enhanced real-time sensing data and information data. It allows a single system to achieve a visual, controllable, and dispatchable new command mode, which makes surveillance more visual, convenient, and efficient and brings a better user experience.
Equipped with a deep learning algorithm, the Crowd Density function of the Dahua WizMind Panoramic Surveillance provides early warning when the real-time crowd density exceeds the preset threshold to protect public security.
It can detect up to 1,024 human targets with a≥92% accuracy rate, and cover up to 8 areas with a radius of max. 30m. What's more, it can also generate crowd reports for BI analysis.
Moreover, the Vehicle Density function of this solution analyses the real-time vehicle situation in the monitored scene such as several vehicles in an area (max. 8 areas) and vehicle congestion in selected lanes.
It offers a detection radius of up to 125 metres, and a detection accuracy rate of ≥95%. When the number of vehicles exceeds the preset threshold, the system will promptly give alarms and generate vehicle reports for BI analysis.
It is often a place with heavy foot traffic and a large number of people. With restrictions still in place due to the pandemic, a lot of squares are still implementing strict measures to avoid people gathering.
Overall, the Dahua WizMind Panoramic Surveillance ticks all the boxes of an effective and efficient monitoring solution for large scenarios. It meets the fundamental requirements for large scene monitoring, smart tracking, resource integration, and cost saving. It also provides intelligent analysis of targets in large application scenarios such as squares, urban roads, entrance & exit areas, enterprise campuses, and parking lots.