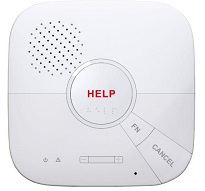 GX-DT35B Smart Care Medical Alarm comes with a brand-new case design. The battery level and the cellular signal strength will be indicated through the white bar on the top cover. In addition, the current status of the system, for example, in learning mode or alarm reporting, will be also indicated through the LED backlight of the large Help button. Users can always be informed of the system status and have peace of mind.
GX-DT35B can be compatible with Bluetooth medical devices, like blood glucose/blood pressure monitors, pulse oximeters, etc., to track medical data and remote monitoring directly from caregivers/physicians; and also has telecare alarm features, including emergency monitoring, inactivity monitoring, voice control, and home automation capabilities to assist seniors to have a more secure, healthy living. GX-DT35B Smart Care Medical Alarm is all-in-one wellness, and personal safety medical alarm solution, bridging medical health monitoring and emergency alarm to keep seniors safe in their own homes.
• Bluetooth Medical Device Pairing
GX-DT35B is compatible with Bluetooth Medical devices, like blood pressure/blood glucose monitors, pulse oximeters, thermometers, etc., to track health and medical data and allow caregiver/physicians to remote monitor and provide treatment as needed.
• Smart Home Automation
ZigBee, Z-Wave, or Bluetooth automation devices incorporated into GX-DT35B creates a smarter and safer home, by auto turning on hallway lights at night to decrease the chance of a fall; or auto turn on the heater if there's a sudden temperature drop.
• Wi-Fi Hotspot
GX-DT35B can serve as a Wi-Fi hotspot, allowing users' computers, smartphones or other devices to connect and access the Wi-Fi network.
• Location Tracking
GX-DT35B can be paired with BRPD-1 Bluetooth pendant, a small wearable panic button that partners with a smartphone application for GPS location reporting and trigger help alarm with one button press, whether the user is at home or out for a walk.