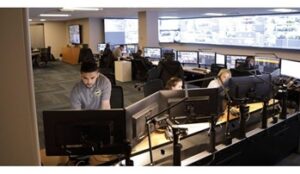 Genetec Inc., a pioneering technology provider of unified security, public safety, operations, and business intelligence solutions, announced that the City of New Orleans' Real Time Crime Centre (RTCC) has deployed Genetec AutoVu Cloudrunner™ to extend the capabilities of its automatic licence plate recognition (ALPR) programme.
The vehicle-centric investigative system helps them gather evidence in the historic French Quarter, with easy-to-deploy, solar-powered ALPR technology that captures high-quality images day or night, making it easier and faster to solve crimes.
New Orleans is the most populous city in the state of Louisiana. The New Orleans RTCC uses Genetec Omnicast™, the video management system of Genetec™ Security Centre, to manage over 1000 cameras deployed throughout the city. They also have 150 Genetec AutoVu SharpV™ ALPR cameras, and now, 16 Genetec AutoVu Cloudrunner cameras, with another 22 to be deployed.
New Orleans RTCC Director Ross Bourgeois said, "The historic nature of the French Quarter made implementing technologies challenging. Since Cloudrunner isn't hard-wired, it gave us the flexibility to deploy cameras where we couldn't before. There are decorative historic poles that don't provide as much lighting as a more modern neighbourhood, and Cloudrunner performs really well in low light."
Ross Bourgeois added: "Today, we can gather additional licence plate reads and query suspect vehicles that are entering and existing in the area. I think, more than changing our operation, these modern devices have really helped us enhance security in one of the oldest and most popular neighbourhoods in the country."
AutoVu Cloudrunner goes beyond licence plate recognition to collect, analyse, and securely store vehicle information such as vehicle colour, type, make, model as well as behaviour analytics. This allows investigators to narrow their search even when there is no – or only partial – licence plate information available or a vague vehicle description.
When investigators review the data collected, the intuitive dashboard in Cloudrunner provides the capability to easily search and filter through data based on the descriptive information collected by witnesses. With just a few clicks, filters on the dashboard can parse through data to help identify a vehicle involved in crime and its licence plate information.
They can further their investigation by analysing details such as movement patterns and timing of the suspected vehicle. Law enforcement can then use notifications and live monitoring capabilities to quickly identify and track potential suspects.
To aid in investigations involving multiple ALPR cameras, data collected can be stored in the cloud and immediately available for querying from any location connected to Cloudrunner. Vehicle images are uploaded from the camera to the cloud via wireless connections over cellular networks.
And with the RTCC managing all video and ALPR data within Genetec Security Centre, law enforcement officers don't have to switch between multiple systems when they're querying requests for video or vehicle data.