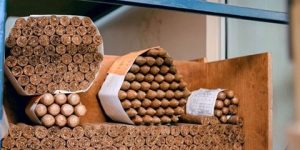 La Aurora, the Dominican Republic's oldest tobacco company recently upgraded from a proprietary surveillance system to an open platform video management solution. Now the distinguished manufacturer of handcrafted cigars can easily manage multiple facilities with improved operational efficiency.
La Aurora's main factory is the number one tourist attraction in Santiago. This prime tobacco growing region offers fresh afternoon breezes that cool the normally scorching daytime temperatures, luring many tourists away from the beaches to the lush, green valley. In 2016, the opening of a new location in the city of Puerto Plata led the physical security and technology team to evaluate changing their old video system to a more flexible, open platform capable of handling future expansions.
"We needed a system that could grow with us. It had to help us oversee operational efficiencies during the manufacturing of our fine tobacco and alert us to potential hazards to prevent accidents. We also wanted to integrate with best-in-class security technologies such as different cameras and access control." Iturbides Zaldivar, Director of Sales and Marketing at La Aurora.
La Aurora was looking for a centralised video management system that was open, scalable and future-proof, for multiple sites to be interconnected, to help staff with operational efficiencies, enable integration with access control, and provide solid back-end protection of data.
After searching for a robust solution for physical security and cyber security, and one that could interconnect and manage all their different locations from one place, La Aurora selected Milestone Systems Xprotect video technology platform, cameras from Axis Communications, Hanwha Techwin, Vivitotek, Mobotix, and Dahua were installed. Most of the IP-network cameras are 4K, multi-imaging devices that give 360° coverage of the manufacturing areas. Access Control from CDVI covered every building entrance. Servers from Seneca Data powered system performance and data storage. The Seneca NVRs store at least 90 days' worth of video recordings. Aplex Security, a certified Milestone Partner, installed the new system and handle round-the-clock monitoring of the tobacco company's properties.
"Our use of video continues to expand. We wanted to connect and manage all our sites from one single interface; we have over 300 cameras in use now, and we also increased our NVR storage. In this world of technology there are always new cyber challenges and threats, too. We knew that by selecting Milestone Xprotect Corporate we would close the gap in vulnerabilities since the software is updated regularly," said Iturbides Zaldivar, Director of Sales and Marketing at La Aurora.
With a consolidated video surveillance system, the security team can now better monitor from one location the multiple sites and employees, resulting in more optimised operations and faster resolution of labor conflicts. Higher manufacturing standards are now possible, including preventing accidents.
With the Milestone video solution, security managers can see whether employees are following proper safety protocols in the warehouse, and employ better loss prevention strategies.
"We have many personnel who work directly in the manufacturing of our products, and sometimes there are discrepancies in what has happened. Our supervisors use the video to review and identify what transpired and take action," added Iturbides Zaldivar, Director of Sales and Marketing at La Aurora
Thanks to the integration with CDVI's access control system, security managers also receive alerts from movements in the buildings and warehouse, especially outside business hours.
With the new video technology, La Aurora received certification issued by the General Directorate of Customs of the Dominican Republic, which facilitates the exports of products globally. This recognition is granted by customs authorities for implementing security measures among companies in the world that guarantee safe trade. One of its requirements is to have a video surveillance platform that ensures at least 90 days of recording, achieves stability, and provides the necessary evidence to review any situation.
This was all made possible by the new video management system together with the 4K cameras, robust access control and updated servers. "La Aurora has contracts with multinational partners where protection of their data is very important; it's one reason why Milestone was chosen, because of the integrity in how the data is handled. Another reason is Milestone's open architecture can seamlessly integrate with different security systems. The customer felt much more comfortable with the Milestone interface, too," concluded Emmanuel Guillen, General Manager of Aplex Security.