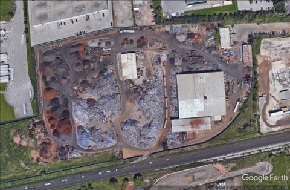 Dominion Nickel Alloys, Ltd (DNA), Burlington, Ontario, is successfully employing a combination of 3xlogic thermal and HD cameras to protect its valuable inventory assets.
Dominion Nickel Alloys Ltd. operates on a global scale with operations, on the outskirts of Toronto, based at an approximately 20-acre facility where different merchants bring all manner of high-value scrap metal for processing. Trucks entering the facility first have their cargo weighed at the entrance before depositing their metal load at a specified location in the yard.
The surveillance technology initially installed was triggered by outdoor motion sensors that activated any one of several PTZ cameras for verification. The new 3xlogic thermal technology was an upgrade intended to eliminate the challenges from outdoor motion sensor technology.
False alarms are a significant problem for installations such as Dominion Nickel, as Ed Bodbyl of Sonitrol Canada explained, "They were having a very high incidence of false alarms. False alarms can cause 'alarm fatigue' and eventually apathy at so many non-events. The biggest risk for Dominion is someone making it into the yard undetected and making off with tens, even hundreds of thousands of dollars of metal."
Bodbyl and his team designed a video surveillance system for Dominion comprised of 14 3xlogic thermal cameras, each paired with a 3xlogic HD 3MP bullet camera for verification.The entire yard is covered with this deployment, offering crisp HD images during the day, and 36-degree thermal images at night, backed by HD video. Since installation in January of this year, Dominion has experienced no incidents of theft. "The new system has substantially improved coverage of the yard and the client has peace of mind that he has much better protection than in the past."
Camera views are monitored by the Sonitrol central station and the operator will take action on alarm to either summon a private guard service or request that law enforcement be dispatched to the scene. As Bodbyl emphasised, "Any time our operator sees a truck roll into the yard in the middle of the night, they're sending the police immediately."
Cameras record to a 3xlogic V5000 NVR located on site. Camera views are dictated by what areas need to be monitored for intrusion detection, and the end user has access to these camera views for operational use and incident review. "There was an initial period of adjustment and calibration to optimise the system's ability to detect incursions while eliminating activations from innocuous elements like small mammals. Once completed, the effectiveness of the 3xlogic system was incredible when compared with the earlier technology." Bodbyl continued, "This has been our experience with this technology from the outset, and it is why we have been successfully deploying these systems all over the region."
"With this camera technology and the Sonitrol monitoring, our security is seamless to me. It takes the worry away, I'm not concerned about what is going on in the yard, Sonitrol takes care of that for us," said Howie Fleisher, Vice President, Dominion Nickel. "The new thermals give us the images we need, the HD cameras function very well in low light. With the old system, we had too many false alarms and after a while operators become immune to responding to so many false alarms."