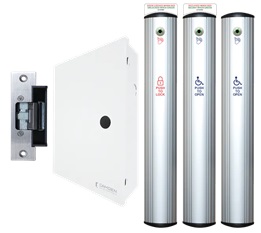 Camden Door Controls, a premier provider of door activation and locking devices and one-stop-source for electric strikes, has introduced to market its CX-WC17VR-PS restroom/privacy system kit. It features Camden's CM-7536VR Column switches with built-in no-touch sensor activation.
These Column switches are ADA-compliant and designed to meet building code requirements for 'high/low' activation switches. The addition of hands-free activation eliminates the spread of germs. Our Column™ switches with no-touch sensors also feature a red/green LED to indicate door lock status, eliminating the need for separate 'occupied' and 'locked' annunciators.
The CX-WC17VR-PS restroom/privacy system kits are a complete solution that includes 'Push/Wave to Open' and 'Push/Wave to Lock' activation switches, a 2 Amp power supply and controller in a small metal cabinet, 'universal' electric strike, and door contacts.