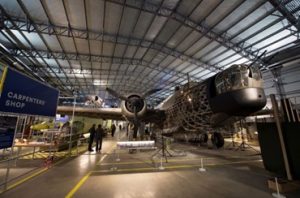 Brooklands Museum has upgraded its CCTV system to a full IP network video surveillance solution, with cameras supplied by Smart R Distribution and installed by Q7 Integration.
Located in Weybridge, Surrey, Brooklands Museum is on the site of the 'world's first purpose-built' motor racing track. Visitors to the museum are able to get up close to aircraft designed, built and flown at Brooklands, as well as explore the historic site which included collections of motor vehicles and aircraft.
"With so many valuable exhibits to protect, as well as a responsibility to ensure the many thousands of visitors who come to Brooklands every year can do so in a safe environment, we made the decision to replace our old analogue CCTV cameras with high definition IP models which utilise the latest technology", said Mark Dover, the museum's facilities manager. "Our security personnel are now able to view 24/7 the superb quality images captured by the cameras on monitors at our central control room".
Chobham based Q7 Integration, which delivers turnkey electronic security solutions for its high-end clients, worked closely with Smart R Distribution to ensure Brooklands Museum was provided with the 'best cameras' for the job in hand, which included monitoring activity in the museum's retail store in order to deter and detect shoplifters.
Among the 14 cameras installed at the museum are three internal Wisenet QND-6082R 2-megapixel dome cameras manufactured by Hanwha Techwin. With built-in IR illumination and a 3.1x motorised varifocal lens, the cameras are designed to allow users to zoom in to observe close up activity of any suspicious activity.
They also feature Hallway View which is said to provide a 'highly effective' way to monitor narrow vertical areas such as corridors and a suite of Intelligent Video Analytics (IVA) that includes defocus and tampering detection, as well as directional, intrusion, motion and enter/exit detection.
External 5-megapixel Wisenet QNO-8080R bullet cameras had also been installed. These are similarly equipped with built-in IR illuminators, designed to capture high quality images 'regardless of the lighting conditions'.
"We had a limited budget to achieve our objectives and yet did not want to compromise on the quality of the images captured by any new cameras or miss out on taking advantage of the latest technology", said Mark Dover. "With this in mind, Q7 Integration and Smart R combined their expertise to recommend cameras which were affordable and could deliver the functionality we need. We now have a highly effective video surveillance solution which will be put to good use as we strive at all times to maintain a safe and secure environment for our employees and visitors".