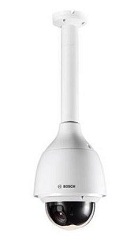 Built-in AI, like Video Analytics, uses metadata to add sense and structure to video footage, enabling cameras to understand what they are seeing and gives customers a smart choice to know what is next. Because situations fluctuate, it is necessary to capture vital information under any circumstance.
The new AUTODOME IP starlight 5100i camera comes with built-in Essential Video Analytics to deliver actionable insights that help operators react before a possible threat or unwanted situation occurs.
This built-in Artificial Intelligence (AI) captures relevant data for uses such as enforcing traffic regulations, detecting vehicles driving in the wrong direction, and delivering occupancy data, such as the number of vehicles entering and leaving a parking garage for smarter, more efficient parking. When idle, the camera can provide relevant and usable statistics like the number of people entering a specific area, and also analyse behaviour or assist in enforcing health and safety regulations, such as raising awareness of a blocked emergency exit.
Higher resolutions and frame rates, improved dynamic range, and enhanced light sensitivity are considered essential to capturing images that can distinguish individuals or objects for identification or proof. A unique feature of the AUTODOME IP starlight 5100i is the new ½ inch camera sensor offering 4MP resolution, 20x optical zoom, and durable housing to meet demanding applications, especially outdoors.
The AUTODOME's built-in starlight technology and HDR-X technology make an ideal combination for this mid-range moving camera. Starlight technology enables the camera to capture colour detail when light levels drop to nearly zero and maximise low light performance in around-the-clock city surveillance, especially to increase the visibility of pedestrians at night.
HDR-X eliminates shadows and balances uneven exposure with a dynamic range of 133 dB. Operators can quickly and accurately locate a person or object in motion at a distance up to 1,676 metres (5,498 feet). They can manually track individuals of interest as they move, regardless of speed, far beyond a fixed camera's field of view. The new AUTODOME IP starlight 5100i supports predictive analytics for outdoor surveillance applications by bringing together rich contextual and behavioural information to help customers respond before a potential situation occurs and deliver business intelligence that goes beyond security.