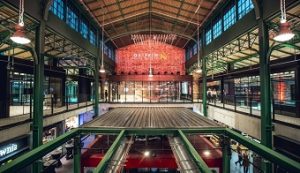 With a century-long tradition for trade and commerce, the Hala Koszyki market hall was opened in 1908 on Koszykowa Street in Warsaw, Poland. Known as the 'People's Bazaar', the Art Nouveau-style building endured numerous social and political changes throughout its storied history. Between 2009 and 2016, Hala Koszyki was remodeled entirely according to a design by Polish star architects JEMS Architekci.
Since its grand reopening in autumn 2016, Hala Koszyki has emerged as a major attraction for food connoisseurs in the Polish capital. The remodeled building retains some of the architectural layout of the historic original while offering international flavors in a variety of restaurants, bars, and food shops, plus several office spaces in a premium ambiance.
Providing integrated security for Hala Koszyki called for a vendor that could solve three key challenges: First, the security system needed to blend in with the market's stylish interior without attracting attention. Second, shop and restaurant personnel as well as office workers required specific access privileges to otherwise restricted areas. And third, building operators wanted a customisable system to meet the specific demands of Hala Koszyki's shops, cafes, offices, parking spaces and other areas.
Bosch received the contract as a one-stop supplier with a strong track record in large-scale retail solutions, also including the high-profile New Union Square shopping center and office tower in downtown Warsaw. The experts equipped Hala Koszyki with video security, intrusion alarm, and access control systems.
The market hall's video security system features moving and fixed IP-based cameras from Bosch throughout the premises. Integrated on the Bosch Video Management System (BVMS), the cameras are monitored by security staff in an on-site control room. For added security, cameras in critical areas feature Intelligent Video Analytics to recognise threats, unauthorised access, and suspicious behaviors automatically.
Aside from greatly reducing the manpower needed to monitor video screens, the system also offers forensic search functionality for evidence in a user-friendly interface. In order to keep areas such as storage rooms and office facilities 'off limits' to unauthorised visitors, Bosch installed access control readers. Answering a key requirement, the access control system also logs the entry and exit times of employees, while keeping track of the current number of employees in the building.
Safeguarding the Hala Koszyki against intruders, the integrated security solution features Professional Series intrusion detectors equipped with PIR (passive infrared) sensors. Combining these detectors with the intrusion panel Modular Alarm Platform MAP 5000 ensures continued operation in events such as short circuits or interruption of the power supply in a scalable system that can grow with customer requirements.
The complete security solution for Hala Koszyki is managed by the Building Integration System (BIS). Overall, the integrated Bosch solution achieves the feat of accommodating Hala Koszyki's various security and access requirements 'under one roof' while blending into the architecture, so end consumers are free to enjoy their shopping and dining experience undisturbed.