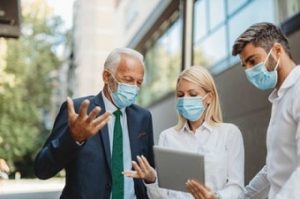 Boon Edam has resumed on-site entry evaluations, a building or campus analysis that aids security managers in creating a defensible physical security entrance strategy against the costly liabilities associated with tailgating and piggybacking.
These evaluations, according to the company, have proven to be critical to the success of entrance projects. During the Covid pandemic, to support community health and safety, Boon Edam shifted from conducting on-site evaluations to virtual ones. Now, with the loosening of Covid restrictions in the United States, Boon Edam is resuming on-site, in-person entry evaluations.
Boon Edam initially began offering consultative entry evaluations with the recognition that every facility has a unique set of risks, resources, and capital. In addition to this, security entrances offer a wide range of intrusion mitigation capabilities – they are not a "one size fits all" solution. Turnstiles, security revolving doors and mantrap portals differ in several categories, ranging from security level and guard needs to capital and operating expenditures. Because security entrances are a significant investment, it is critical that security professionals understand the differences between entrance types to best align with their physical security strategy.
Entry evaluations are "walk throughs" conducted by experienced entry experts who traverse a building or campus with the client's security team and other stakeholders. The goal is to define vulnerable entry points and discuss other unique but critical concerns. These may include throughput, supervision available, and industry compliance requirements; today's need for "touchless" entry to minimize germs and promote social distancing; local safety codes for emergency egress and ADA compliance; and how existing security technologies such as access control systems, cameras, etc. will integrate with the entrance solutions.
At the conclusion of the evaluation, Boon Edam's entry experts develop a comprehensive summary with recommendations for improvement.
"It's always amazing to see what gets uncovered during an evaluation and how often a decision or assumption can change after a great discussion. We've always put considerable emphasis on security entrance education and consultation, and as Covid-19 threatened to reduce our ability to perform these invaluable evaluations, we were able to pivot and offer virtual evaluations," says Greg Schreiber, Senior Vice President of Sales at Boon Edam Inc. "Now, with Covid restrictions lessening, we continue to offer virtual evaluations but are very excited to resume in-person entry evaluations as organisations begin to accept outside vendor visits."