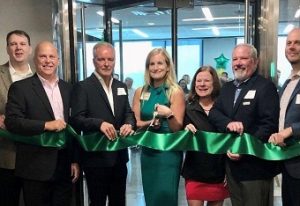 Boon Edam Inc., a pioneer in secured entry solutions and architectural revolving doors, has announced the official opening of their new headquarters and technology centre in downtown Raleigh, North Carolina. The new facility is home to much of Boon Edam's office staff as well as a new technology center featuring a variety of secured entry solutions.
"Our new facility is a testament to our growth and commitment to our staff, customers, and partners," said Valerie Currin, President & Managing Director, Boon Edam. "The new showroom and technology centre are especially exciting, as our visitors are now able to interact with our products in ways not previously possible."
Visitors to the Raleigh offices and technology centre will see a wide variety of Boon Edam products and technologies on display. Featured solutions include Tourlock security revolving doors, Circlelock mantrap portals, TQM revolving doors with power-assist, access control and automatic night-locking, Speedlane Lifeline Swing and Speedlane Compact optical turnstiles, Turnlock full height turnstiles with BE Secure overhead detection system, Winglock access gates, and integrated technologies such as Stereovision anti-piggybacking technology and BoonTouch access control panels.
Boon Edam is also showcasing integrations between their entrance control products and third-party access control, video surveillance, and visitor management systems including OpenPath, Lenel, Convergint, LifeSafety Power, Idemia, 2Square C, Envoy, and more.
Boon Edam's new location is a part of the Smoky Hollow community, a fast-growing city centre that is redefining the urban experience at the northern gateway to downtown Raleigh. Within the shared mixed-use district are a variety of restaurants, art galleries, retail stores, and residential spaces. Boon Edam's facility is convenient to both the Raleigh-Durham International Airport and Union Station, Raleigh's new multi-modal transit centre.
Boon Edam commercial staff, including many executives, marketing, sales, customer service, and finance personnel, have relocated from company offices in Lillington, NC to the new Raleigh location. Boon Edam will continue to manufacture all their security entrances at their factory in Lillington.