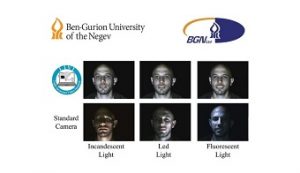 Ben-Gurion University of the Negev researchers have developed Light Invariant Video Imaging (LIVI) software technology that will significantly improve picture clarity in sub-optimal lighting and enhance object recognition. The new software will enhance many smart camera applications, including facial recognition for security and augmented reality.
LIVI increases camera functionality eliminating the effects of background or dynamic lighting conditions, thereby delivering shadow-free images with constant colour output and improved contrast. The software relies on amplitude-modulated (AM) light separation, similar, in principle, to AM radio communication.
This enables cameras to separate the influence of a modulated light from unwanted light sources in the scene, causing the AM video camera frame to appear the same, independent of the light conditions in which it was taken. "Strong background light creates shadows, for example when people walk into buildings, interfering with the ability of our eyes and cameras to recognise faces," said Prof. Hugo Guterman, from the Department of Electrical and Computer Engineering, and head of the BGU Laboratory of Autonomous Robotics. "Our invention produces a 'flash' effect that clears the backlight, removes shadows and improves contrast, making all captured frames much clearer."
The technology has numerous applications, including smart security cameras and cellphones as well as facial recognition, augmented reality, video games and military use. Amir Kolaman, a Ph.D. student in the BGU Department of Electrical and Computer Engineering, was working on his thesis on underwater photography when the issue of backlight arose. Together with Prof. Guterman, she developed the system that filters out the backlight for each pixel in the image, much the same way that a radio receiver filters one station from another.
"Light intensity can be modulated at different frequencies just like in radio waves," Kolman says. "We turn each camera pixel into an AM receiver that tunes to the flashlight and filters out the background lights from the output frames." According to Netta Cohen, CEO of BGN Technologies, this is a perfect example of a technology developed in BGU labs that addresses real market needs, is inexpensive to produce and can be easily incorporated into many devices. BGN Technologies is the technology company of Ben-Gurion University, bringing technological innovation from lab to market and fostering entrepreneurship. BGN Technologies is now seeking a partner for the further development and commercialisation of this breakthrough technology.
The video analytics market is most likely the first market in which the technology will be integrated, since robust camera frames improve performance of facial recognition and identification. The global video analytics market is projected to reach $11.17 billion by 2022 according to a Markets and Markets report published in April 2017.
The recreational smartphone market represents another major opportunity, as more smartphones become equipped with facial recognition security. The worldwide smartphone market reached approximately 1.53 billion units in 2017, according to an IDC report.