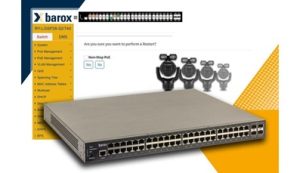 barox Kommunikation AG, the manufacturer of 'Switches made for Video', including professional standard switches, PoE media converters and IP extenders, has introduced 'Non-stop PoE' to its layer 2/3 managed GbE PoE+ switches.
Suitable for use within any critical surveillance monitoring application where the avoidance of loss of live and recorded video is essential, barox's new Non-stop PoE functionality dramatically reduces IP camera downtime when re-boot tasks need to be performed.
An essential aspect of any IP camera network, firmware upgrades are a necessity to help maintain operational and cyber security performance. When these tasks are carried out, the combination of data port downtime and PoE regeneration leads to a temporary loss of camera video. However, with barox Non-stop PoE, switch functionality can be configured to supply any individual or all connected switch ports with 'always on' PoE power.
This advanced functionality means that IP surveillance cameras can remain powered during a firmware update. The net effect being that PoE regeneration time is taken out of the equation, meaning camera downtime is substantially reduced during engineering procedures, such as firmware updates to help maintain the highest possible levels of cyber security.
Available on the barox's 28 and 38 Series, and RY-LPITE 422XGME layer-2/3 managed GbE PoE+ switches, Non-stop PoE is an important feature for any CNI or high-security application. Saving further on avoidable surveillance downtime, engineering callouts and associated costs, in the event of a camera glitch, barox switches can also be configured to automatically reboot a camera.
To help manage the Non-stop PoE (and security network/devices) management, the 28 and 38 Series, and RY-LPITE-442XGME feature an integrated network monitoring and control system that provides a live graphical overview of the entire network topology.
Displaying their IP address and type of device, the intuitive barox on-screen DMS Configuration & Monitoring menu shows the status of all IP cameras, switches and servers, and allows device functionality control, as well as the fast pinpointing of network and device issues.
"Developed specifically to cater for the demanding requirements of video networks, barox's 'next generation' managed Ethernet switch range with Non-stop PoE raises the game for high data volume transmission products," says Rudolf Rohr, barox Co-Founder & Managing Partner.
He adds, "Substantially reducing loss of video for high risk, high security and evidential situations during switch re-boot or important security firmware updates, Non-stop PoE is a truly innovative and practical feature. It's also testament to the fact that barox is an 'intelligent solutions provider' and designer of Ethernet switch products specifically geared to meet the challenging demands of networked video, rather than those pertaining to data only."