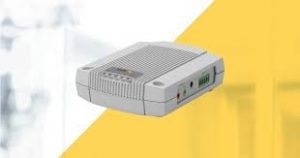 Axis Communications has announced a new product, the Axis C8210 network audio amplifier, which makes migration from traditional to network audio systems smart and easy.
The AxisC8210 is designed to transform any passive speaker into a network audio speaker so users can utilise the speakers of their choice, independent of form factor, colour or brand.
Together with Audio Management Software from Axis, Axis C8210 network audio amplifier gives customers the benefits of network audio. These benefits include flexible zoning, playing and scheduling different content in different zones, managing and monitoring all audio devices from a single interface, and easy integration to other systems or solutions like SIP, VoIP and cameras. Network audio is also scalable and flexible so users can easily add or remove speakers or change zones and content according to their changing demands.
Product features include: amplifier with built-in equaliser; 15W power output, for up to 8 speakers; I/O and SD-card slots; support for health monitoring; one cable for power and connectivity (PoE).
This is the latest addition to the expanding Axis audio offerings. Axis has been bringing the benefits of a network audio system by introducing a range of products for use in functions such as security, announcements and background music. The company's audio portfolio consists of speakers, microphones, audio bridges and audio management software.
The company plans to make the Axis C8210 network audio amplifier available at the end of March 2019 through its distribution channels.