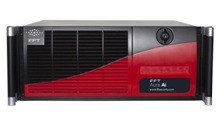 Ava Group, a provider of risk management services and technologies, announces new enhancements to its FFT Aura Ai-2 advanced fibre optic detection controller, which offers superior intrusion detection location accuracy together with extended range performance.
The system is perfect for monitoring pipelines, perimeters and communications networks.
Mark Horton, Global Sales and Marketing Director at Ava Group comments, "The Aura Ai-2 is our next generation controller and was released to industry acclaim last year, being recognised for its ground-breaking performance. However, the system has had further performance upgrades and now offers monitoring of optical distances of 80km for perimeter fence detection or 110km for pipeline or covert buried detection."
The Aura Ai-2 controller works by pulsing laser light along optical fibre cables connected to each of its two detection channels. Dependent on the application these cables are either: laid adjacent to a pipeline, attached to a perimeter fence or buried along a perimeter boundary. Minute disturbances cause changes in the scattered light and the Aura Ai-2 controller automatically analyses this reflected light to detect, locate and report disturbances.
Advanced optical signal processing algorithms, combined with artificial intelligence, accurately and reliably analyse the reflected light to discriminate between intrusions and other causes of disturbance. This significantly reduces nuisance alarms whilst maintaining full awareness of any situation. When wired in a redundant loop configuration the two-channel controller provides cut resilience and continues to provide detection in the event of a deliberate or accidental cable cut.
Dr Jim Katsifolis, CTO at Ava Group Technology Division comments, "As is the case with any fibre optic system, the key to increasing performance over distance is to maximise its optical power budget, that is, the maximum allowable optical signal loss the system can tolerate while still maintaining proper operation. We have enhanced our Aura Ai-2 platform by designing new ultra low-noise detection electronics that significantly increase its dynamic range (and consequently its optical power budget)."