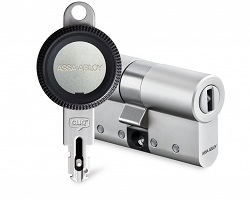 You can work smarter and more sustainably when electronic locks and keys power your security. An electronic locking solution minimises security risks when keys go missing. With an eCLIQ system from ASSA ABLOY, you can manage everyone's access from anywhere, at any time — electronically, securely and wirelessly. Based on award-winning CLIQ access control technology, the eCLIQ system is built around precise locking mechanics and high-end microelectronics. A battery inside each programmable key powers the wide range of programmable cylinders and padlocks — and secures every data transfer.
An eCLIQ system is also convenient. Thanks to multiple software options, you manage users' access rights in a way that suits you best. Authorised key-holders carry a single, battery-powered key programmed with only their cleared access permissions.
Robust and durable, eCLIQ cylinders are available for a wide range of doors, cabinets, lifts, alarm boxes, machines and entrance gates. Looking after your eCLIQ components is easy: an integrated lubricant reservoir ensures cylinders remain maintenance-free for up to 200,000 cycles.
eCLIQ keys are durable, compact, and waterproof (IP67). They are easy to reprogram, enabling temporary and time-limited access permissions for every employee or contractor. AES encryption, rapid processing, and efficient energy management is built into the chip. When a key's battery runs out, it is easily replaced without tools. Mechanical and encrypted electronic elements work together to make an eCLIQ installation highly resistant to both physical and electronic attack
Managing eCLIQ is straightforward. You can program keys with easy-to-use eCLIQ Manager software: choose between a local software installation or a secure web-based software which manages access rights from anywhere, in the cloud. Security managers can host the Web Manager software on their own or use ASSA ABLOY's Software as a Service solution. Users can also update their own keys with a range of programming devices, including wall-mounted units.