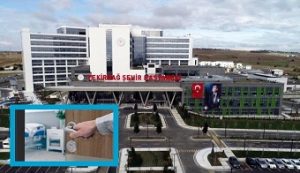 The new Tekirdağ City Hospital represents a landmark in medical care for northwest Türkiye (Turkey). With almost 500 beds – more than 100 for intensive care – 124 clinics and 18 operating theatres, it is the Thrace region's most advanced health facility. It sought a modern access management solution suited to such a prestigious development.
The chosen system would need to efficiently handle a large number of doors and users – around 3,000 Euro cylinders were required, a format patented by an ASSA ABLOY Group company in 1927.
To simplify day-to-day management, hospital administrators wanted a solution, which could equip the whole site with one cylinder type. Another essential – a manufacturer and local partner who could be trusted to provide ongoing service.
The hospital serves a city of over 200,000 people. It also caters to medical visitors from overseas – notably Greece and Bulgaria – who travel to use its specialist facilities. Security and user-friendliness are paramount."Security and authorisation to access points are very important in a big hospital," explains Emrah Babaoğlu, Senior Electrical Engineer at Tekirdağ City Hospital.
ASSA ABLOY's CY110 mechanical locking system now provides the hospital with affordable, modern security and access management. The CY110 range has the flexibility to create a Master Key System for all types of locking points – not just doors, but also cabinets, lockers, and more – which suits the hospital's needs and streamlines their workflows.
CY110 cylinders have the security and durability features, which sensitive and highly frequented environments, such as hospitals require. Emrah Babaoğlu adds, "CY110 is very useful for big projects like ours."
Relying on CY110, a high-end but affordable security locking system, gives hospital managers peace of mind. CY110's Euro cylinders with 6-pin technology have an extended lifetime of at least 500,000 lock/unlock cycles and are resistant to multiple common forms of attack.
They are EN 1303:2015 (1 6 – B – C 5 D) tested and SKG certified. Patent protection through 2036 deters unauthorised key copying, which can be a major risk to site security.
Kirsi Solehmainen, EMEIA Business Development Manager at ASSA ABLOY Opening Solutions, said "For ongoing service, Tekirdağ City Hospital benefits from our deep knowledge and expertise in key-based locking."
Kirsi Solehmainen adds, "ASSA ABLOY Group has been inventing and manufacturing lock-and-key technology for over 140 years. Businesses and buildings all over the world rely on our access management solutions."
For key holders, the reversible CY110 key is convenient and durable. Its high-quality, robust nickel-silver construction withstands fatigue. Rounded corners prevent accidental damage. Because of the CY110 system's versatility, key holders only need to carry one key to open all the locks they need during their daily routine. As well as a boost for convenience, this durability has another benefit noted by hospital administrators. Emrah Babaoğlu said, "We help to protect the Earth by preventing metal waste."