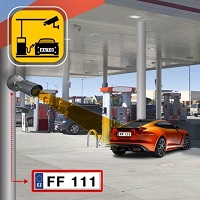 Technology partners Hanwha Techwin and FF Group have jointly developed a comprehensive range of intelligent on-board camera ANPR solutions and together the two companies are highlighting the opportunities for installers to achieve sales growth by helping end-user clients take advantage of the benefits offered by ANPR.
Automatic Number Plate Recognition, ANPR, as it is commonly known, is increasingly being used across a far wider and diverse range of applications, which until recently might not have been imagined. This is primarily because the feature rich solutions on offer from leading developers such as FF Group, are now much more powerful and reliable than earlier generations of ANPR. The opportunity for installers of video surveillance solutions to generate new revenue streams from ANPR is supported by the latest research carried out by IHS Markit. This indicates that the global market revenues from sales of intelligent ANPR devices are forecast to reach $800 million by 2022 and then increase at a compound annual growth rate of 16.4%.
ANPR has historically been used by police to verify if a car has been stolen, is untaxed or is uninsured. It has also been deployed by local authorities to enforce parking and traffic violations, as well as by petrol stations to combat the problem of people driving off without paying for fuel. More recently, car park operators have been using ANPR to control entry and exit of 'white listed' cars.
New opportunities now arise with the increased functionality and the availability of ANPR solutions which are affordable for virtually any application. This means installers can now assist their clients to use ANPR beyond traditional security purposes. For example some interesting and unusual ANPR deployments, include a marketing solution where ANPR is being used by a marketing agency to analyse the impact of billboard advertising campaigns. An ANPR app, running onboard open-platform, high definition network cameras, provides data on the number of cars and the speed at which they pass the billboards. This gives an indication as to the number of people who are likely to have seen the adverts and for how long. The agency is using the data to provide their clients with reports on the cost effectiveness of each billboard by comparing them with others in different locations.
Other innovative uses include temporary construction sites access where ANPR has been installed in order to minimise the number of security guards needed to manage vehicle access.
ANPR is also helping keep people safe with speed control at a large logistics centre, where vehicles are constantly arriving and departing, the owners of the logistics centre have a duty of care to minimise the risk of collisions. In highly competitive markets, hotel parking, VIP services and car dealerships are other examples where industries can capitalise on the use of ANPR in other ways in addition to the pure security and access applications