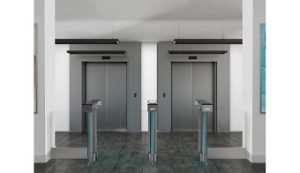 As security requirements expand to smaller buildings and lobbies, architects and specifiers are looking for compact optical turnstiles that provide a high level of security in the limited space available. With this problem in mind, Alvarado has introduced its most compact barrier optical turnstile to date, the SU4500. Designed for high-end facilities where space is at a premium, the new SU4500 has a compact 38" cabinet length but doesn't compromise on security, throughput performance or looks.
The unobtrusive modern design does not impede or obstruct the line of sight, and the shallow depth of the lane ensures that it will fit in even the 'coziest' of spaces. The SU4500 can be further enhanced through an optional lighting package that allows users to illuminate the side panels (and the top and end lights, if desired) in any RGB colour and create unique transition effects. The result is a modern look that complements any environment.
Integration is quick and easy, as the SU4500 integrates with virtually any existing access control or visitor management system. Dedicated inputs for fire or life safety systems are provided and outputs are available to turn on cameras, lock interior doors and provide remote notification of alarm events.
The SU4500 can accept various credential readers, including RFID and emerging technologies such as biometrics and elevator dispatch. The result is a secured access solution that not only looks amazing but provides superior access control and visitor management.