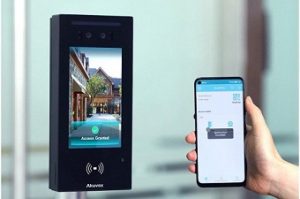 CIE (CIE Security), a global distributor of audio-visual and security brands, is pleased to announce the UK launch of the A05C Access Control Unit from Akuvox (Akuvox Networks). The A05C is the first of Akuvox's brand new series of smart IP access control readers and features a distinct 5-inch HD colour screen that is attractive in design and easy to use.
The unit also incorporates the latest deep-learning AI and dual-camera technology, which allows for secure, touch-free verification via face recognition, Bluetooth, RFID or QR Code scanning, all of which are supported by the Akuvox SmartPlus smartphone app.
With these features available as standard, the A05C is one of the most advanced IP access control readers available on the market. Furthermore, the A05C access reader is also available with optional thermal detection modules to check anyone entering the building for fever-like body temperatures.
Akuvox is one of the renowned brands for IP intercoms, access control and telephony equipment. Established globally, as well as in Europe, its mission is to improve people's lives with better communication, greater security and more convenience, all through its product offering. The A05C smart IP access control reader comprehensively delivers on this promise.
Featuring face recognition technology integrated into an access control unit, the A05C will automatically compare the visitor's face with a database of enrolled faces and perform automatic match notification to grant access. The unit also embraces QR code-based access control for 'one time' access for external visitors.
Typically, residents/building managers can generate a QR code from the Akuvox SmartApp for a visitor to use on their mobile device, which will allow entry to the building (or specific area) on a limited use/fixed time basis.
The A05C complete range of authentication methods for ultimate security and flexibility are:
• Secure infrared face recognition.
• QR Code (eg. for one-time access).
• NFC, RFID and Bluetooth contactless via smartphone, ID card or keyfob.
• Body temperature detection (if paired up with the Akuvox MD02 unit).
The A05C Access Control Unit is IP65 rated so can be used for external gate systems and high-impact areas. This advanced access control device also supports ONVIF open standard for effective integration with other third-party IP systems and devices, such as IP CCTV cameras and Network Video Recorders (NVRs).