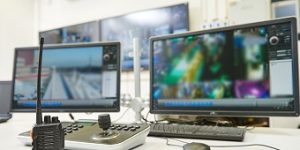 Video surveillance systems have proven to not only be a deterrent to crime, but are also now being used to collect data points to actually help detect abnormal behaviours which can alert authorities of potentially evolving situations. In either case, recorded video is critical for investigations to provide all but irrefutable evidence to prove or disprove that an incident took place and the identity of the individuals involved.
Sounds like a pragmatic approach that's quite simple in theory. Not so when large numbers of cameras are deployed across multiple sites, and perhaps multiple users within the framework of a centrally managed system. Examples include a mass transit system, large university campus, mega shopping centres, airports, gaming resorts… and more.
Aside from the challenges presented with multiple camera feeds, recorders and control locations, and assuming that all system components are operating as they should; investigators need the right tools to find the footage they need. Today's advanced Video Management Systems (VMS) have evolved from simply facilitating camera and recording management to a more sophisticated role within a larger video surveillance and security ecosystem.
From monitoring and tracking a live situation within a facility or across a municipality, to coordinating response efforts, through forensic investigations, new VMS capabilities provide a holistic solution that improves overall protection and contributes to business intelligence.
Among these capabilities, VMS forensic tools are meeting the needs of important investigation activity – both during and after an incident. For instance, while monitoring live video feeds, users can perform a basic investigation on individual cameras including playback, and digital and optical pan-tilt-zoom (for PTZ cameras), without the need to switch to a dedicated investigation mode. Advanced VMS solutions, such as OnSSI's Ocularis, provide investigators with a multitude of options for accessing and enhancing video data to document incidents. Some of the most notable tool-sets available include:
As opposed to the Live Monitoring view, which displays multiple cameras asynchronously (i.e. different panes can show playback, paused and/or live cameras simultaneously), the Browse mode displays all cameras synchronously. This provides insight into events taking place at different locations at the time an incident occurred, allowing investigators to easily track an incident as it moves from camera to camera.
This provides a clear overview of recorded motion events over extended periods of time with the ability to scale the timeline to show shorter or longer time intervals. Colour-coded segments in the timeline indicate whether video has been recorded at a certain time to the minute, and whether motion was detected during those periods. Any video recordings triggered due to motion detection can be automatically queued to speed up the investigation process. Once investigators isolate recorded video of interest using any of these preferences, one or multiple cameras can then be easily viewed.
Synchronous playback displays all recorded video from all displayed cameras on the timeline into a Browse mode regardless of which video source is selected. This provides investigators with a comprehensive overview and fast access to all recorded video during the time interval that an event occurred.
One-click snapshot allows investigators to take JPEG image snapshots of any recorded video during the review process. These snapshots have multiple applications including identifying individuals of interest. Motion Detection expedites the event detection process by eliminating the need to manually review volumes of recorded video data. Motion can be detected within a defined zone, and the detection process can be configured to the exact parameters of the targeted behaviour or movement. The desired time intervals to search for motion detection can be preset by operators to expedite searches.
The percentage of changed pixels can also be set when searching by motion detection to match the nature of the targeted movement. For example, high value setting would be used to detect a vehicle entering a detection region down to the size of a single parking space, eliminating false detections of persons walking in the parking lot. Additionally, parameters can be set for pixel colour and brightness to compensate for the amount of noise caused by ambient lighting, shadows, reflections and more. Time Slicing enables users to easily and quickly access video of an incident by automatically generating equal-interval thumbnails of a specific camera view. Once the incident is evident in one of the thumbnails, investigators can create sets of thumbnails of increasingly smaller time intervals to determine the exact moment an incident began and/or ended.
Motion Slicing is similar to a Time Slicer, but enables instant detection of motion events, adjusted for the duration of the event and level of motion.
Alerts generated by the recording component in response to events such as motion detection or generic events received from external systems (e.g. access control, emergency phones, etc.) may also be used in Time Slicing. Event Sequencing provides messages generated by the recording components indicating a sequence of events. Each sequence may include one or more instances of motion, or alerts received from external sources, making this method more suitable for accessing complex incidents.
Combined with the inherent video management and control capabilities provided by best in breed VMS solutions, these powerful new embedded investigation tools allow users with large surveillance systems to fully leverage the power of their investment to easily and comprehensively investigate events