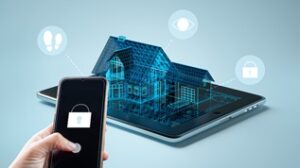 The autumn equinox, which marks the start of autumn, has begun. With darker evenings ahead, the experts at ADT have shared five ways to maximise your home's security.
Michele Bennett, General Manager at ADT UK&I comments: "Opportunistic thieves use darkness to their advantage, so it's no surprise that the number of burglaries committed increases when the darker nights draw in."
He adds, "Our 2022 burglary report found that burglaries are most common at night, with 58% of burglaries occurring between 6 p.m. and 6 a.m. Taking steps to optimise your home's security before the clocks go back this year will provide reassurance that your property is as secure as possible."
Five ways to secure your property:
● Get a monitored alarm installed: A visible alarm system is a strong deterrent to potential burglars, as criminals are less likely to target a home that is protected. In the event of a break-in, a monitored alarm will alert you, your keyholders and depending on the package you take out, the police, ensuring a swift response to an alarm activation.
● Light up the dark: Well-lit exteriors make your home less appealing to potential intruders. Install motion-activated lights around any entry points, particularly porches and gardens, which alert you to movement on your property. This will also prevent burglars from operating under the cloak of darkness and increase the chance of a passerby spotting suspicious activity.
● Trim your garden landscape: Thieves look for escape routes and hiding spots when deciding which homes to break into, making gardens with high, overgrown hedges more likely to be targeted. This is especially true in the darker evenings, so be sure to give your garden a thorough tidy-up to make your property less likely to be targeted. It's also advisable to ensure any tools are locked away in sheds and garages that could assist a burglar such as ladders, or a garden spade to force entry.
● Be smart with your lights: Using smart plugs allows you to turn on a few well-appointed lights and radios or televisions from any location from your phone. Used in conjunction with an outdoor camera or video doorbell, you can have lamps plugged into smart plugs come on when motion is detected. Programming lights to come on at different times throughout the night will help to deter burglars by making your property look occupied.
● Purchase a smart doorbell or outdoor camera: Smart doorbells are an effective way to deter burglars as they provide evidence in the event of a break-in, package theft, or other suspicious activity around your home. They also notify you when someone is at your door reducing the chance of you being caught out by a late evening or early morning robbery.
Smart doorbells also act as a deterrent to unscrupulous door-to-door sellers and con artists, as video footage is recorded. In the event of a late-night door knock, you can see and speak to whoever is at your front door, without having to open the door.
ADT's new outdoor camera also has two-way audio and a high-pitch deterrent siren so you can warn off anyone from your property to deter any further encroachment.