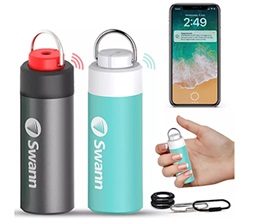 Swann Security, a global manufacturer of security solutions, has announced the launch of a new personal safety product: the Swann ActiveResponse personal safety alarm. According to the company, this safety device marks a leap forward in personal safety technology, empowering individuals to take control of their safety like never before.
"Swann Security is committed to enhancing personal safety and providing individuals with the tools they need to protect themselves and their loved ones," says Alex Talevski, CEO of Swann Security.
"With the ActiveResponse Personal Safety Alarm, we're empowering people to be proactive about their safety, offering a lifeline that fits right in their pocket. We see this product helping a wide range of our consumers from the young adult/student to working professionals to the elderly and those with disabilities."
Swann Security boasts the ActiveResponse solution is designed with the modern world in mind through its compact and user-friendly device that offers peace-of-mind, whether at home, in transit or on the go.
The Calif.-based company explains when someone finds themselves in the presence of danger or becomes lost, all they need to do is pull the pin for a loud 110 decibel (dB) siren and/or push the button to alert their nominated personal contact. With the addition of an ActiveResponse plan, activating the siren or pressing the button can, via Bluetooth and a user's phone, alert up to five nominated personal contacts and/or Swann's monitoring center and local police with an SMS that includes your GPS location..
Swann recommends that users carry the ActiveResponse unit in their hand, pocket or bag, or simply wear it as a necklace or attach it to a keyring, handbag, school bag, backpack and more.
Summarising the technologies and options the new Swan personal safety device offers users, the company adds the product delivers these capabilities:
● Pairs with Smart Phone & the Swann Security App: Using Bluetooth the company's personal safety device connects family & friends with emergency services.
● Easy to Use: The product activates a Loud 110dB Siren by pulling emergency pin to scare would-be perpetrators away and alert people that someone is in distress.
● Long Battery Life: The safety product is powered by a single CR2 battery.
● Lock & Unlock When Needed: There's a screw lock to deactivate the alarm when a user knows they are safe.
● Discreet, Lightweight & Stylish Design:The unit is easy to carry on a keyring, pocket or bag. Compact, stylish and lightweight aluminium case. Swann offers the ActiveResponse unit in a choice of aqua and black finishes.
● SMS Alerts to Emergency Contacts: Users' primary emergency contact will receive an alert (including the location) if an alarm is activated.
● Subscribe for Greater Security: Becoming a member allows users to nominate up to five personal emergency contacts. In addition, by pressing the button or activating the siren sends an instant message via Bluetooth on users' phones to Swann's professional monitoring center and, if necessary, local police.
● Travel Compatible: Swann adds that users can carry the unit wherever they go including domestic air travel, as the alarm can be taken through security screening at airports and onto planes.