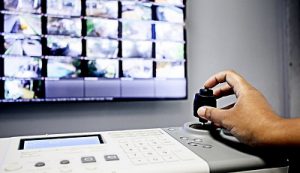 In the security industry today we see many installers and integrators using standard consumer grade monitors for video surveillance. This is primarily due to budget constraints, but can end up costing significantly more over the life of the install. This is because most installs are now using HDMI connections primarily. A consumer monitor has HDMI input, so why isn't it good enough? Well, consider the average cost of a 19.5" consumer monitor. The retail price is around $80-100 compared to the MRRP of a commercial grade monitor of around $150-200. Yes, it's a premium of 50-100%, but there are a few important criteria that differentiate the products.
1. A consumer grade monitor isn't designed to run 24/7
If you look at most consumer grade monitor user manuals they will explicitly state that they should only be used continuously for up to 14-16 hours per day due to using lower quality resistors and capacitors on the mainboard. What about your security in the hours the monitor shouldn't be running? OK, so let's ignore that and run the monitor 24/7. It will usually burn out within a year, leading you to replace the monitor. Already the commercial grade monitor has been worth the premium, and that's in the first year
2. Consumer grade monitors don't have Anti Pixel Burn
Given that most CCTV monitors are connected to static cameras they will usually have the same image on the screen for 24 hours a day. Remember why computers have "Screen Savers"? A few months of displaying a static image will cause ghost images to burn onto the screen due to overheated pixels, causing image degradation and the need to replace the monitor. These ghost images are even visible when the monitor is powered off! Anti Pixel Burn prevents this by imperceptibly shifting the image by a few pixels periodically to prevent the individual pixels from overheating and thus causing these problems.
3. Many co-axial inputs won't be supported by a consumer grade monitor
Commercial grade monitors may or may not need to use co-axial inputs including CVBS, AHD, HD-TVI, HD-CVI and HD-SDI, but one thing for sure is that a consumer grade monitor just won't support them
4. When using 4K, consumer grade products more often than not use upscaled 4K
This causes the image reproduction on the monitor to not be the true image being sent from the camera or input device. Commercial grade products from most specialist commercial monitor manufacturers use true 4K, recreating the image exactly as has been sent from the input device. We have heard from many distributors and OEM customers who have tested true 4K models side by side with products from LG, Samsung and others, and they have have been blown away by the difference in image and colour reproduction.
5. Consumer grade products generally come with a 1-year warranty
Many commercial grade products come with a 3-year warranty as standard, but are generally expected to last much longer. The MTBF (minimum time before failure) of the panels that most commercial grade monitor manufacturers use is 50,000+ hours, which at 24 hours a day is almost 6 years! There are many commercial grade monitors out in the market still being used after 8-10 years or more, so they stand up to the test of time. Even if they only last the warranty period of 3 years that's still as long as 2-3 consumer grade monitors.