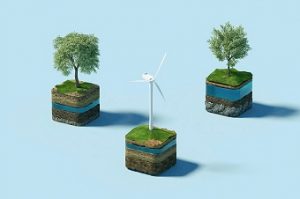 Security is vital for every commercial organisation. Business premises are an investment you don't want to risk losing, whether it's a loss of equipment due to theft or damage to your property from vandals. And in many cases, having protection and security measures in place are necessary as part of insurance policies. But for business owners who are conscious of their carbon footprint, or those looking to make savings on their energy expenditure each year, it is also possible to power security systems through renewable energy sources that will bring expenses and environmental impact down. Here are four tips for powering security systems with renewable energy and what to consider when choosing your security equipment.
Choose your security equipment carefully
There are numerous types of CCTV and security cameras on the market, depending on the needs of your business and the size of your premises, offering organisations a host of protective benefits. So, a priority when switching to renewable energy sources is to consider the type of equipment you need. Solar and wind-powered cameras, for example, utilise renewable energy to power the cameras directly and store additional energy for use when there isn't the resources to run them, such as when the sun sets. Wireless cameras, on the other hand, require a separate power source to operate them.

Consider the type of renewable energy you need
There are several factors to bear in mind when choosing the right renewable energy source for your business, from your budget to available space and how complex they are to manage. Wind turbines, for example, are a powerful renewable energy source but they require ample space for commercial premises to benefit from it onsite.
Likewise, hydropower harnesses the energy of water and even small systems can be powerful enough to run small commercial premises. Solar power is one of the most popular types of renewable energy for businesses, as it's affordable, offers financial returns quickly and businesses will experience downtime from the switchover, so it's a hassle-free swap. Plus, there are numerous solar-powered security cameras on the market that utilise the power of the sun while protecting your business.

Check the capacity of your installation
For optimal security, you need to have the system running at all times. So, with this in mind, the renewable energy source you choose needs to be suitable for powering the security system you have in place and to recharge the installation's battery.
It's worth speaking to a specialist in this area to calculate the needs of the electrical installation and to optimise your renewable energy set-up so that you're not over or underspending on energy. However, if you're producing more energy than you need, there is also the option to sell the power on as an additional revenue stream that will go towards your business, helping to pay for your operational costs and also paying off the initial investment of the renewable energy set-up.

Think about placement
If you're opting for a solar- or wind-powered security camera for your business, you need to consider the placement as this can help or hinder its effectiveness. Where do you want the camera to be installed that offers protection, while also gaining the most exposure to generate maximum power?
In order for a solar-powered security camera to stay up and running 24/7, you need access to enough peak sun hours to fully charge it, which is when the sun provides 1,000 watts of power, per square mile. It's not necessarily the amount of time the sun's shining but rather the intensity of the light, so this plays an important role in where you position the panel. Generally speaking, south-facing locations are the best option to achieve maximum results.
New technologies are constantly emerging and the renewable energy sector is developing year on year. With the climate crisis looming, more businesses are seeking ways to adopt greener practices. In order to enhance commercial security systems and benefit from the advantages that renewable energy can provide, companies need to define their requirements early on and consult with experts in the field to ensure that the commercial property is receiving sufficient power for its needs.