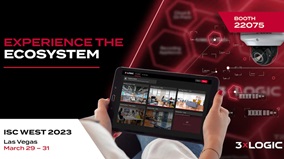 3xLOGIC, a leading innovator and provider of security hardware, software and cloud-based solutions that drive business intelligence, will be exhibiting at ISC West.
3xLOGIC's new X-Series Edge Based Deep Learning Analytics cameras will be taking center stage. The MVP release of select cameras will have far reaching applications within the VIGIL Suite and VIGIL CLOUD and provide AI based advanced object tracking analytics.
The new cameras continuously analyse movements and behaviours and use predictive analysis to track each object constantly. People, objects, and vehicle events can be filtered so that only important activations are acted upon. These are particularly effective in dense and complex scenes with applications in perimeter protection, person, object, and vehicle detection and notifications, as well as business intelligence use cases for advanced dwell time and people counting.
In addition, 3xLOGIC's popular VIGIL CLOUD will be highlighted with new product features. This innovative ecosystem delivers a truly holistic view of the entire secured premise and 3xLOGIC has further expanded its functionality with the implementation of the above-mentioned edge based deep learning analytics.
This sets the groundwork for further development and positions VIGIL CLOUD as a driving force for reliable, secure and well provisioned security infrastructures. Person and vehicle detection capabilities have been integrated to refine the analytics of the motion zone to only notify when a person or vehicle is present, greatly reducing the number of notifications and false alarms, and allowing users to focus only on what is important.
VIGIL CLOUD includes multi-camera, multi-view functionality, in which users can select up to six cameras to view live feeds simultaneously with the option of viewing multiple locations as well. It is now possible to manage and share cases externally with cooperating agencies including law enforcement. Users can share video clips and all case comments with multiple email addresses, and to ensure a full audit trail a notification will be sent to the system administrator indicating a case has been shared externally.
3xLOGIC has also been working hard to augment the best-in-class features and functionality found in the VIGIL Video Management System and is set to introduce two versions of VIGIL 12.5. Alongside the traditional Windows based option, VIGIL 12.5 Linux OS provides a lower cost solution and is based on the Linux Debian 11 OS.
VIGIL 12.5 offers full remote server settings via the new platform agnostic VIGIL Server Management Utility (VSMU) and VIGIL Client. Also included are enhanced pan tilt zoom (PTZ) controls that allow a user to focus on an object or individual by simply drawing a box around it, as well as ONVIF-M support for analytics metadata. Furthermore, an enhanced network camera user experience simplifies camera onboarding and fully remote configuration, and the VIGIL CLOUD plug-in for video streaming, retention and case management is also built in