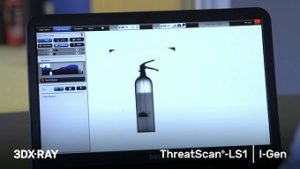 3DX-Ray has announced a contract for the supply of ThreatScan-LS1 flat screen scanner to a European Counter-Terrorist Unit. The flexibility of ThreatScan-LS1 flat screen scanner allows counter terror officers to rapidly examine and assess threats and suspect items on site, such as bags, laptops, furniture and more. The ThreatScan-LS1 scanner also enables them to locate and identify hidden cameras and surveillance equipment.
Each system consists of a portable X-ray generator, a detection panel and an operator's workstation running 3DX-Ray's market-renowned image processing software, together with a customer-specific range of ancillary equipment.
ThreatScan-LS1 flat screen scanner is lightweight, incredibly thin, and has a large imaging area of 600 x 460mm, that facilitates bags and objects to be scanned in one scan. This scanning system can penetrate up to 34mm steel at 120kV while producing high quality, sub-millimetre resolution images.
ThreatScan scanner can be used to inspect suspect bags and packages in mass transit areas, such as rail and bus stations, shopping malls, airports, stadia and sports arenas. It is also best suited for general security inspection by first responders such as Police, Military and Private and Government Security agencies. 3DX-RAY Ltd., Sales and Marketing Director, Vincent Deery stated, "We are very pleased with this contract because it demonstrates how versatile and flexible the systems are in protecting and enabling police officers in the pursuit of their duties."