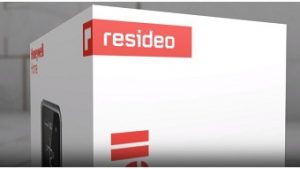 Honeywell Homes CEO Mike Nefkens has revealed the name of the soon-to-be spun off Honeywell Homes product portfolio and ADI distribution business: Resideo. "When we thought about a name for the new company, we knew we had to reflect our strong heritage, the promise of connected technology and the deep devotion people feel about protecting what they hold most dear," Nefkens explained on a video message announcing the name change.
"Resideo combines the words 'residence' – your home – and 'presidio' – your fortress," he added in a written note on the company's new landing page, www.resideo.com. Resideo will become a stand-alone, publicly traded company following completion of the spin-off, which is expected by the end of 2018. The company "will continue to sell products branded Honeywell, under the Honeywell Home sub-brand," explained Nefkens, who was appointed President & CEO of Honeywell Homes in May. "We have a license to use the Honeywell Home brand for many years to come, and the Honeywell Home-branded products will integrate the Resideo 'R.' "
As far as ADI, the press announcement reiterated that "ADI Global Distribution will retain its name and remain as a free-standing distribution business of Resideo, allowing its global low-voltage contractors to access the products and technologies they need to meet the needs of their customers." Resideo (Honeywell at the time) soft-launched its as-yet unnamed total home security and automation system at ESX in June. It included different touch panels, a hub, keypads and sensors that will replace the Lyric line and integrate with TotalConnect and AlarmNet. "Over time, this will be our entire residential security offering," VP Scott Harkins said.
According to the announcement, more than 4.7 million of Resideo's customers use connected devices in their homes, which provide them app-based access to controls, monitoring and alerts. After the spin, the new company will already have approximately 30 million installed sensors generating more than 250 billion data transmissions annually.
Back in October when Honeywell announced the planned spin-off, it said "the new Homes and Global Distribution business will be a leader in the home heating, ventilation and air conditioning (HVAC) controls and security markets, and a leading global distributor of security and fire protection products." It remains to be seen where this leaves the company's commercial dealers, who have been installing and servicing products such as NETAXS, Maxpro and others; as well as the many fire brands that fall under the Honeywell portfolio, including Notifier, Silent Knight, System Sensor and more.