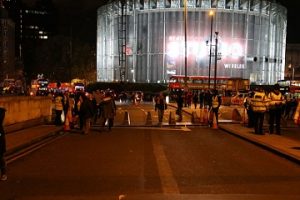 The popular Lord Mayor's show in London became the latest event to receive the highest levels of protection against a vehicle attack. With over 7,000 people taking part in the inaugural parade, and over 50,000 visitors to the event, an innovative road block system was deployed to safeguard against a possible security breach. Cutting edge security innovation, Surface Guard, developed by the world's leading designer of road blocker, bollard and vehicle barrier systems, ATG Access was installed on Waterloo Bridge to protect the people at the event on 11 November 2017.
The system was deployed extremely quickly, in just an hour and a half, to secure both ends of the bridge, meaning that road closures required prior to and during the event were kept to a minimum. Once the event finished at 6pm, the solution was removed just as quickly, so that the roads and bridge could be reopened that same evening. As the system does not need anchoring to the ground, no damage was caused to the road, central reservation or pavements when the system was removed.
Surface Guard, which has been specifically designed in response to the surge of vehicle ramming attacks across Europe, has been tested in accordance with the IWA 14 crash test standard. It is capable of withstanding an attack from a 2,500kg vehicle travelling at 48 kph (30mph). Its modular design also makes it quick to install, as well as lightweight and compact ensuring easy storage.
The solution has been designed to complement existing street furniture items and adapt to changes in surface levels and road cambers. It also allows pedestrians to flow freely in and out of designated areas. Once in place, wheelchair users, visitors with prams and mobility scooters were all able to pass through the new system with ease.