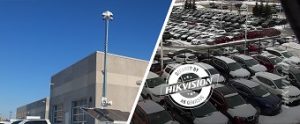 An off-grid security system provided by Hikvision USA Inc. was installed by Hikvision integrator OGSP (Off Grid Surveillance Platforms) to secure a building during the remodeling process for Ajax Hyundai in Ontario, Canada. Ajax Hyundai, part of the Drive Auto Group in Canada, had plans to renovate a building down the street from its original location and rebrand the dealership. In the process of reconstruction, walls were opened and wires were cut, and the building lost electricity. While under construction, the building housed new, unsold vehicles and expensive construction equipment. The renovation process left the interior contents of the dealership vulnerable to theft during the construction process. As a result, Ajax Hyundai needed a surveillance solution that could function independently from the electric grid.
"We have a long working relationship with OGSP, so when we required surveillance during construction, we knew exactly who to call," said Mr. Sean Harris, General Manager for Ajax Hyundai. "I have four Hikvision dome cameras installed at my home [that are] paired with Hikvision DVRs, so I'm familiar with the video quality of Hikvision surveillance systems. It's the unique installation from OGSP that left many of our employees astounded by the engineering feat," he added.
This type of installation is OGSP's expertise – surveillance systems that operate off the electrical grid using the sun to power video surveillance and live monitoring equipment.
"There is a big issue in Canada with people trying to steal cable at construction sites and hydro installations, and people will harm themselves because there are live wires. To counter this problem, preventing injuries and even death, and reducing construction site theft, I devised a more diverse system providing greater power with reliable, real-time monitoring, via third parties and superior area coverage," said Mr. Jeff Mcilveen, owner of OGSP.
The building was open for business during the interior renovation, so Ajax Hyundai needed a surveillance system to function as a theft deterrent as well as monitor employee safety and protect equipment and vehicles. "It was important for us to have a panoramic view of the entire building and surrounding areas," said Mr. Harris. "The off grid surveillance platform placed the Hikvision PTZ security cameras more than 24 feet in the air, so it can capture details from many blocks away." Mr. Harris adds that the platform looks very "official," and therefore serves as an effective theft deterrent.
"The surveillance system had to generate enough solar power to operate around the clock, using stored battery power for overnight use, with a generator as a backup power source," said Mr. Mcilveen. Hikvision's high resolution and PTZ features provided the dealership with live viewing and recorded video in case of an incident.
The assistant service manager checks the cameras every morning when he gets in, and uses Hikvision's iVMS-4200 app to check in remotely. Staff can review recorded footage and using motion-activated lights, can determine if an event warrants further investigation.
The PTZ cameras were installed at the top of a 24-foot base, with one camera facing each of the four corners. "I installed the Hikvision PTZ cameras to ensure they were located in the center of a circle, to provide 360-degree coverage and full visibility," said Mr. Mcilveen. "The compact size of Hikvision cameras helps, and I installed the cameras to be stationary and stable even with wind resistance, offering as much coverage as possible while being able to capture details such as license plates," he added. Hikvision cameras offer performance with compact size and weight, to balance the design.
OGSP also installed a Hikvision Embedded Plug & Play NVR (model no. DS-7604NI-E1) inside of the trailers with a capacity of 3 TB to store up to one month of video recordings.
"Hikvision camera resolution is phenomenal, and it is easy to check in on our cameras using Hikvision's iVMS-4200 app," said Mr. Harris. "Our staff was pretty impressed with the unique OGSP configuration and kept saying 'wow, you've got to see this thing.'"
Mr. Mcilveen added that weather posed a big challenge, with the Ontario area receiving lots of snowfall and temperatures routinely dropping as low as -20 degrees Celsius (-4 degrees Fahrenheit).
"I had to determine how much power the system would need, estimating downtime for winter weather, and snow on solar panels. I visited the site every few days to remove snow from the panels," said Mr. Mcilveen. "The Hikvision PTZ cameras are weatherproof and functioned perfectly in temperatures down to -30 degrees Celsius."
Hikvision PTZ cameras offer the best details to get results, because they can be adjusted and zoom in with astonishing detail, he added.