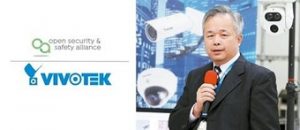 Vivotek has joined the new Open Security & Safety Alliance, a non-profit, non-stock corporation that brings members together to create a common standardised platform for security and safety solutions.
Vivotek is one of five founding companies, joined by Bosch Building Technologies, Hanwha Techwin, Milestone Systems, and Pelco by Schneider Electric. Together, members will be working with the best common standards and specifications. They will also share guidelines for implementation to minimize integration efforts and lead IP surveillance industry to the next level.
In the past, surveillance solutions were isolated without a common standardised platform. Manufacturers and software developers therefore were forced to expend resources on making their systems compatible to one another. This drain on research and development limited the innovation through which real value for customers and users was created. In establishing the Alliance, such a drain is greatly reduced and innovation will be furthered as the Alliance grows. Companies of any size that share the same values are welcome to join the Alliance and contribute their ideas and expertise.
Owen Chen, Chairman of Vivotek stated "To become the Eye in IoT is our vision, and we have foreseen the strong growth potential of AI and IoT. A common standardised platform for security and safety solutions is required to allow the industry to grow in this age. Together in the Alliance, we are committed to combining different expertise across industries, and offering solutions in one common language for better results. Manufacturers or software developers can reach many more potential customers and create value added innovations beyond security and safety. Meanwhile users can enjoy up-to-date AI technology and discover more customer insights in smarter ways. It is a win-win collaboration for everyone in the ecosystem."