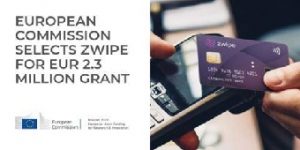 Biometric technology company Zwipe has been awarded a 2.3 million Euro (NOK 23 million) grant from the European Commission as part of Horizon 2020. The grant will support Zwipe's commercial go-to-market ability by funding its scale-up initiative "Generation NxT" and will be paid out in tranches over the next 24 months.
Horizon 2020 is the largest European Union (EU) Research and Innovation programme with nearly 80 billion Euros of funding made available over a seven-year period from 2014 to 2020. It aims to facilitate European breakthroughs, discoveries and world-firsts by taking ideas from the lab to the market by promoting European innovation and competitiveness on a global scale.
More than 1850 companies across the European Economic Area applied for grants in this most recent application round, with only 3% of applicants receiving funding. Zwipe's application and selection were rooted in its innovative approach to developing and launching the world's first battery-less biometric payment card, designed to enable a more secure means of completing contactless transactions without requiring any changes to the existing payments infrastructure. The EU acknowledged the scale of this challenge and recognised the merit of Zwipe's biometric and power harvesting technology platform to make convenience secure on cards, wearables and other form-factors deployed in the financial services industry. The grant will support Zwipe's Generation NxT initiatives that include technological development, certification and commercialisation of a proprietary application specific integrated circuit (ASIC) tailored for energy harvesting and power management, as well as efforts focused on cost reduction and supply-chain readiness to facilitate Zwipe's scale-up and go-to-market capacity.
Zwipe's biometric technology is currently being piloted by Banca Intesa Sanpaolo in Italy, the Bank of Cyprus and by 10 leading banks in five different countries across the Middle East with several more banks planning to commence pilots in the coming weeks with support from the world's largest payment schemes