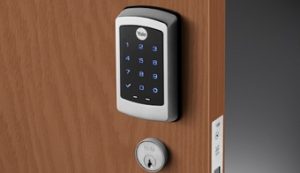 Yale Commercial has announced the expansion of its nexTouch digital keypad door lock line with a new sectional mortise lock platform. The nexTouch Sectional Mortise Keypad Lock an ANSI/BHMA Grade 1 certified mortise lock that offers robust security for a wide range of commercial and multi-family applications, either as a standalone lock or integrated into a scalable access control system via plug-in modules.
Comprised of a durable mortise lock body, the nexTouch Sectional Mortise Lock features a separate keypad, lever and optional security deadbolt. Similar to the original nexTouch cylindrical, the lock is offered with a choice of a capacitive touchscreen or push button keypad that provides tactile feedback, necessary for ADA compliance. Both versions feature an ergonomic, easy-to-use design with an illuminated keypad. A privacy mode feature works to temporarily disable the exterior keypad to prevent additional entry.
The nexTouch Sectional Mortise Keypad Lock features a low battery indicator when the batteries should be changed. If the batteries drain, users have the option to touch a 9V battery to the terminals on the front of the lock and enter a PIN code, enabling one-time access. The lock supports up to 500 user codes as a standalone lock and is managed with easy voice-guided programming.
If users require advanced access management from any location or device, the lock is available in Z-Wave or Zigbee configurations, or with Data-on-Card technology compatible with Yale Accentra cloud-based lock management software. Both upgraded solutions are easily enabled with the addition of a plug-in network module. The connected versions of the lock provide audit trail capabilities with the usage log stored within the software.