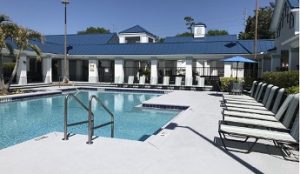 The study details the challenges property managers faced at two multi-family apartment communities in Florida, and how they addressed them by installing VIZpin's smartphone-based access control solution.
Both Biscayne Shores, a North Miami community of 240 units, and Advenir Polos East, an East Orlando community of 308 units, were using outdated access solutions that would be costly to update. At one community, key fobs were getting lost and loaned to non-residents, and in the other, an outdated card reader system was not allowing for additional users or modified schedules. In both cases, the shortfalls of the outdated access systems resulted in unwanted visitors entering the properties and their amenities, such as gyms and fitness centres. Property Managers at both Advenir communities were concerned about potential security and legal issues.
Advenir's Regional Construction Manager introduced the VIZpin smartphone access system to the property manager of the first community, who comments, "I immediately saw VIZpin as a way to monitor unwanted guests and alleviate resident complaints." After learning of her colleague's success with VIZpin, the manager of the second property requested that the solution be installed at her apartment community, as well.
In addition to outlining the affordability and security benefits of VIZpin, the case study also details how the smartphone-based solution has resulted in additional revenue for one property manager. She explains how, because only authorised residents may request and be granted access, she has learned of many residents whose names did not previously appear on leases, which has resulted in lease updates and the collection of additional application fees.