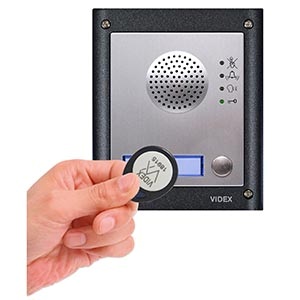 Videx launches its new digital GSM system that can provide access control to a wide range of gated properties, office blocks, apartments and commercial buildings. The new system uses mobile technology to communicate and operate doors, automatic gates, car parks and remote site applications, making it a perfect security solution for unmanned sites and communications outside of normal business hours. It is available as part of the popular 4000 series modular door entry system, a vandal resistant surface or flush panel and can call up to 500 users, each with a divert facility of up to three additional numbers should the others be engaged or unanswered.
GSM systems enable calls to be placed from an entrance point to any mobile or landline telephone. Entry can then be granted using the telephone keypad. The new Videx digital GSM system offers a number of advanced features and flexibility for users. For example, the large graphical display enables apartment numbers, resident names, departments and company names to be shown with an easy-to-use scroll facility to help the visitor when searching for the person they're visiting. There is also integrated proximity access control for up to 2,000 users and a coded access facility for up to 500 users that can be used as a means of entry.
GSM systems require minimum installation and setup time, allowing them to be installed in places which would be too difficult or too expensive to hard wire. There is no need for any cabling to telephone points as the system utilises the existing mobile network infrastructure, allowing calls to be made to anywhere in the world.
Systems can be installed in a very short space of time requiring only the mounting of the entrance panel, the connection to a power supply, antenna and gate or door releasing device. The new system also comes with a customisable LCD display, backlit keypad for poor lighting conditions and an event log that can record events that can be viewed using PC software