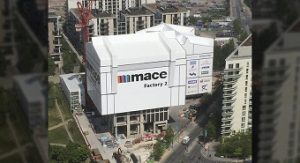 Urmet has secured the second phase of its landmark door entry project at the former Olympic Village in Stratford, East London. The latest work is in addition to the installation of the company's innovative IP-based door entry solution at buildings in East Village used to accommodate athletes during the London 2012 Olympic Games.
Main contractors, Mace, have used Urmet's IPervoice suite on two residential tower blocks of 26 and 30 storeys respectively, set within communal squares and courtyards near the River Lea and surrounded by amenities. The area is already home to 6,000 people and the new towers will add a further 481 flats to the area.
Urmet's Elekta steel IP PoE entry panels have been fitted to nine entrance points at the towers. Elekta Steel is a vandal- resistant version of Elekta that reduces the potential for vandalism with its one-piece steel body and flush moving buttons. The LCD colour display ensures easy use for callers and can also show messages and even a digital route map to a chosen location anywhere on the site.
Residents at East Village screen their visitors and communicate with them using Urmet's Aiko hands-free video internal monitors. These monitors are 4.3-inch TFT units, with a soft-touch control panel offering video messaging and an open-door indicator. They can be recess-installed, wall-mounted or used from a desktop stand.
East Village also benefits from Urmet's switchboard software, which enables concierges to manage calls, receive and create alarms, and send messages. As the £180 million site progresses, joint developers Delancey and Qatari Diar will be able to move and expand the switchboard software from one building to another. This flexibility delivers considerable cost-savings whenever new estate management offices are added.