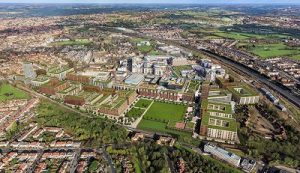 Nationwide house-builder, Redrow PLC, has chosen Urmet's IPervoice IP door entry system for Colindale Gardens, a large mixed-use parkland development of residential units and commercial premises covering 46 acres in north-west London. Urmet has already supplied its open-platform solution to an initial stage of over 300 apartments in what will ultimately be a community of 2,900 new homes to be completed by 2025. Residents will also benefit from Urmet's access control system, which is an integral part of the installation.
Urmet's Elekta steel and Elekta glass IP PoE entry panels were selected by Redrow and were fitted at entrance points in the initial phases. Visitors will use the panels to communicate with residents and the concierge. The panels feature a 3.5-inch colour display and enable the recording of both audio and video messages if no one is at home.
When completed, there will be 24 blocks of apartments and townhouses within the landscaped gardens. The site is set in extensive grounds and the panels provide a valuable feature as the display is able to show the visitor a route map to the selected residence. Urmet's IPervoice also combines door entry with access control. At Colindale, the Elekta panels feature integrated Wiegand 13.56 MHz RFID proximity readers, which allow entry to residents and staff on presentation of a key fob or card.
Redrow has also specified Urmet's switchboard software, which allows concierges to manage calls, receive and create alarms, and send messages on a global, group or individual basis. The software simplifies these functions by presenting concierges with a simple-to-use screen menu, giving them awareness of the whole site, which contributes to overall resident safety.
As the development progresses, the installers will be able to move the switchboard management software from one building to another, thereby delivering considerable cost savings for the developer. Using an IP-based system such as Urmet's IPervoice enables multiple apartment blocks to operate from a single software platform on a site-wide network.
Redrow also specified a requirement that the property management software should be able to administer resident services. The respective features of the door entry system and property management software were compared to see how this would be made possible. By using the Max Pro IP touchscreen monitor, Urmet was able to combine both services on one platform. The Max Pro IP touchscreen is powered by Android and allows Urmet to work with other manufacturers installing third-party apps on the device.
Urmet's MAX IP Android-powered touchscreens have been installed in each apartment. This is a seven-inch tablet-style device that employs the same swipe movements as a smartphone. The MAX IP has a 2-megapixel camera and a 1024×600 pixel 16:9 screen.
Due for completion in 2025, the project will eventually encompass 24 blocks of apartments, townhouses, a health centre, school and neighbourhood centre. Architects Feilden Clegg Bradley Studios have designed buildings that feature mainly brick elevations, with some of the houses built as three-storey terraced structures. Residents will benefit from walkways, cycle paths, indoor and outdoor gyms, fitness trails, cafés, retail spaces and a four-acre central park