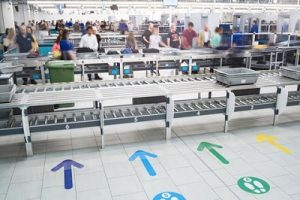 Smiths Detection LLC, formerly Morpho Detection LLC, has won a second contract with Gatwick Airport to supply and service eleven additional CTX 9800 DSi explosives detection systems (EDS). Following a successful trial and order for nine CTX 9800 EDS announced earlier this year, Gatwick will deploy eleven additional units to screen all in-gauge baggage in the North Terminal – helping ensure the safety of more than 45 million passengers a year. This is the first order for the enhanced CTX 9800, which offers increased throughput thanks to a belt speed of 0.5 metres per second. Scheduled for deployment by September 2018, Smiths Detection's on-site network of expert engineers and technicians will help ensure peak performance and maximum uptime for a minimum of ten years.
Alasdair Scobie, Head of Commercial Operations at Gatwick Airport said: "As a growing global airport, serving 228 destinations in 74 countries, Gatwick's focus is to maintain its robust security screening process while also enhancing the passenger experience. Working with Smiths Detection to upgrade Gatwick's existing automated hold baggage screening systems ensures that we meet regulatory mandates whilst handling the growing passenger demand as we expand Gatwick's role as a global airport."
Powered by leading edge computed tomography (CT) technology, CTX 9800 is approved by the European Civil Aviation Conference as meeting Standard 3 requirements and certified by Capable of screening 1,800 bags per hour, CTX 9800 combines high-resolution 3D visuals with intuitive navigational tools – allowing the operator to 'travel' through the bag and manipulate images.