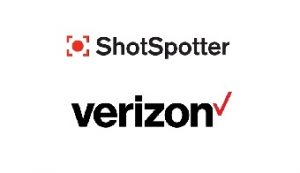 ShotSpotter and Verizon collaborate to enhance gunshot detection
ShotSpotter has announced an agreement with Verizon to bring the ShotSpotter solution to cities by leveraging Verizon's Light Sensory Network, an IoT platform deployed on street lights. Verizon's Light Sensory Network is part of Verizon's Smart Communities technology, which offers a range of services to cities including lighting control, traffic analytics, parking optimisation, public safety support and now gunshot detection.
By utilising a city's lighting infrastructure, it will now be easier and more cost effective to deploy ShotSpotter gunshot detection capability in key urban locations and cover a much broader area in cities. With the ubiquity of street lighting in nearly every area in a city, now the entire city can benefit from near real-time alerts to gunfire.
ShotSpotter, the leading gunshot detection service, is used in more than 85 cities across the country to help law enforcement agencies reduce gun violence. Through its acoustic sensing capability and enterprise-grade software, ShotSpotter can detect and locate gunfire in near real time.
Alerts are then broadcast to 911 dispatch centres, patrol cars and even smartphones, with the location, number of rounds fired, and approximate number of shooters, to law enforcement and public safety officials. These alerts help enable first responders to get to the gunfire location quickly and aid victims, collect evidence and apprehend offenders.
"We are very pleased to add ShotSpotter to our Smart Communities solution suite in the interest of supporting public safety in communities throughout the U.S.," said Sean Harrington, Vice President of City Solutions, Smart Communities at Verizon. "The combination of the nation's most reliable network with a leader in the gunshot detection industry deployed across street lights can create a robust and cost effective solution to help cities fight gun violence."