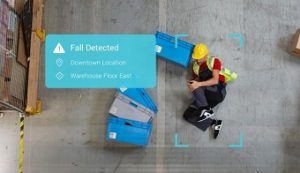 Rhombus Systems, an enterprise video security startup, releases Unusual Behaviour Detection (UBD) to quickly notify organisations when something is wrong. Last year, Rhombus Systems released their AI-Powered R1 security camera to provide organisations cloud-management, facial recognition, people analytics, and enterprise integrations at an affordable price point.
Today's existing video surveillance systems are reactive and used only after an incident has already occurred. Rhombus is changing this by notifying users in real-time when something is wrong – all without ever having to monitor a video feed. When UBD is activated, it begins collecting data and analyses the setting to determine what's normal for that particular space. If the cameras capture an abnormal event, the system will send an immediate alert to a user's preferred notification method.
Users also have the ability to review video footage containing only unusual behaviour, making the task of reviewing large amounts of footage easily accomplishable in only a few minutes. UBD includes another new feature known as Fall Detection. By leveraging the camera's optics and processor, Rhombus can analyse human postures and movement, such as sitting, walking, running, etc. With this, the cameras can accurately track movements and issue alerts when a person has fallen down within an organisation.
For example – if a person has collapsed, it would normally take 5-10 minutes to notify the appropriate personnel. However, with UBD, as soon as someone falls, the system will
recognise this event and notify the right person via phone, email or Slack.
By combining human posture analysis with unusual behaviour, Rhombus can send alerts when a fight, argument, medical emergency, robbery, or any other unusual event has occurred allowing for a wide array of business applications. "We've built UBD to provide better visibility throughout large organisations," said Brandon Salzberg, Rhombus Systems'
VP of Engineering. "Many of our customers have told us that their previous system didn't shed any light into what was happening during the day."
"We wanted to provide a solution that concentrated on solving this problem, so we developed a system that can detect over 100 key body points and classify over 10,000 poses, which will help organisations save time by filtering out events that are unimportant, and instead, focus on the events that are."
Some of the highlights of Unusual Behaviour Detection (UBD):
• Human Posture Analysis – The cameras are able to understand human postures, such as walking, sitting, standing, and more.
• Unusual Behaviour – The cameras can analyse the environment, collect data, and distinguish what's normal, or abnormal, for a particular space and send real-time notifications when an unusual event has occurred.
• Fall Detection – By combining posture analysis and unusual behaviour, when a person has fallen, users can receive an immediate notification.
• Advanced Video Indexing – Rhombus's video indexing provides the ability to review large amounts of footage in minutes and filter to see specific events such as motion, human, face, fall, or unusual behaviour.
• Mobility and Flexibility – Users can provide better security to their organisation without being tied to a system or desk. UBD monitors a space and alerts you when an event has occurred.